Staying Connected – Oct 16
Training, Screening and Return to Campus Update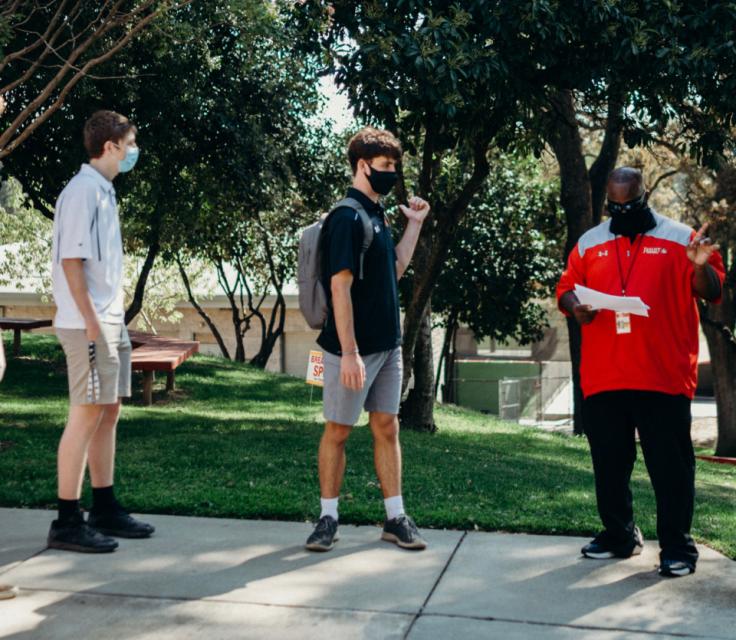 Jesuit High School has now completed our all-class training week ahead of our return to campus that included our first antigen screening performed by Urgent Care Now (UCN), a presentation from school administrators, and a campus tour with specific attention to the various elements for virus mitigation. The student presence on campus was a welcome sight to faculty and staff who have been apart from students for so many months.
Training week began with the Senior class on Monday and we learned a great deal about how to improve this process for the subsequent class trainings and for the first day of classes. Given that this was the first experience of screening and the first time we have conducted trainings to our students on virus mitigation, many important lessons were learned. The seniors were patient and polite and we were proud to see them respond to all of the new changes as respectful young men. Each class thereafter ran smoothly and we were able to fine tune dialogue and presentations ahead of student questions to make sure all students had a grasp of what their return to campus will be like and what the expectations are for next week. Our four days of training oriented and toured 910 students and over 100 employees.
Bundled into this update are a few details on some of the lessons learned during training week including a message from the physicians at UCN/Immunity on the environmental factors that contributed to false positives on day one. As we move onward, the antigen screening is an important addition to our virus mitigation plan for the safety of our faculty, staff and students. However, as with all plans, this process may evolve or change depending on multiple factors. As we move through the first weeks of on-campus classes, the Safe Return Task Force along with the UCN physicians – in consultation with Sacramento County Health – will assess the feasibility of the program.
Again, please know that we are in this process together and we strive to be transparent and communicative in all we do. First and foremost, we are here to care for our students, faculty and staff always.
Peace,
Michael Wood
Principal
Next Week's Calendar At-A-Glance
| | |
| --- | --- |
| M | No Class, Feast of the North American Martyrs | Health Sciences Career Presentation |
| T | C-1-2-3-4 | Red, Parent/Teacher Conf. (by appointment), Online Mass |
| W | C-5-6-7-8 | Red, Parent/Teacher Conf. |
| TH | C-1-2-3-4 | Gold, Parent/Teacher Conf., Art Event Starts |
| F | C-5-6-7-8 | Gold, Parent/Teacher Conf. |