Jesuit Frosh vs Christian Brothers Frosh – Holy Bowl
Saturday, September 9, 2017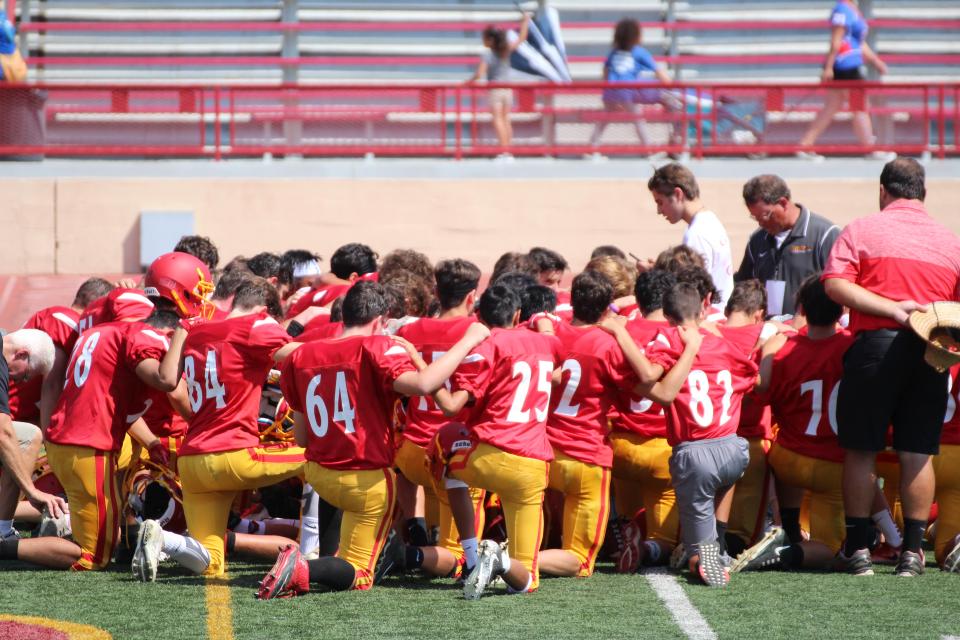 The Freshman Marauders handily beat their rivals Christian Brothers 51-12 at the 2017 Holy Bowl, improving their record to 2-1.
After the opening kickoff to Jesuit, the first play set the tone for the game. Noah Clay powered up the middle behind solid blocking for a 19 yard gain. On the second play, he dragged Falcon defenders for another 17 yards. Two plays later, all of those runs up the middle set up Chris Thorn's brilliant fake inside handoff and keeper to the outside for a 30 yard touchdown. Thorn ran through tackles to get the Marauders first score. 7-0 Jesuit.
Back on defense, Sebastian Torres and his teammates sacked the Falcon's quarterback on their very first CB offensive play. After a CB punt, Jesuit's second drive mirrored their first, with a series of advancing runs from Clay and Cash Taylor culminating in a Thorn keeper for a touchdown. 13-0 Jesuit with 4:56 left in the first quarter.
The ensuing CB drive stalled, and Thorn scampered 57 yards down the sideline for the Marauder's third touchdown. Jesuit 20-0.
CB finally struck back and scored off a QB keeper. Joey Adge blocked the extra point, and the score was 20-6 Jesuit. However, the Marauders answered right back with quarterback Jacob Peluso scoring on his own run. 26-6 Jesuit. On Jesuit's next score, Clay ran a delayed handoff up the middle for 53 yards. 32-6 Jesuit.
It would be difficult to under emphasize how well the Marauder defense played during the game. Torres, Hunter Hastings, and others penetrated the Falcon offensive line and disrupted the called play. Yet CB did manage to score before the end of the half. 32-12 Jesuit.
The second half began with Keleki Latu intercepting a Falcon pass that was tipped by Cash Taylor. Thorn capitalized with a 67 yard pass to Gage Johnson. 38-12 Jesuit.
The fourth quarter got started with a Peluso 37 yard keeper for another Marauder touchdown. 44-12 Jesuit.
CB was unable to score, and Peluso followed Jeffrey Johnston and his O-line compatriots for a two yard QB sneak. The final was 51-12 Jesuit.