Jesuit Frosh vs Davis Frosh
Thursday, September 28, 2017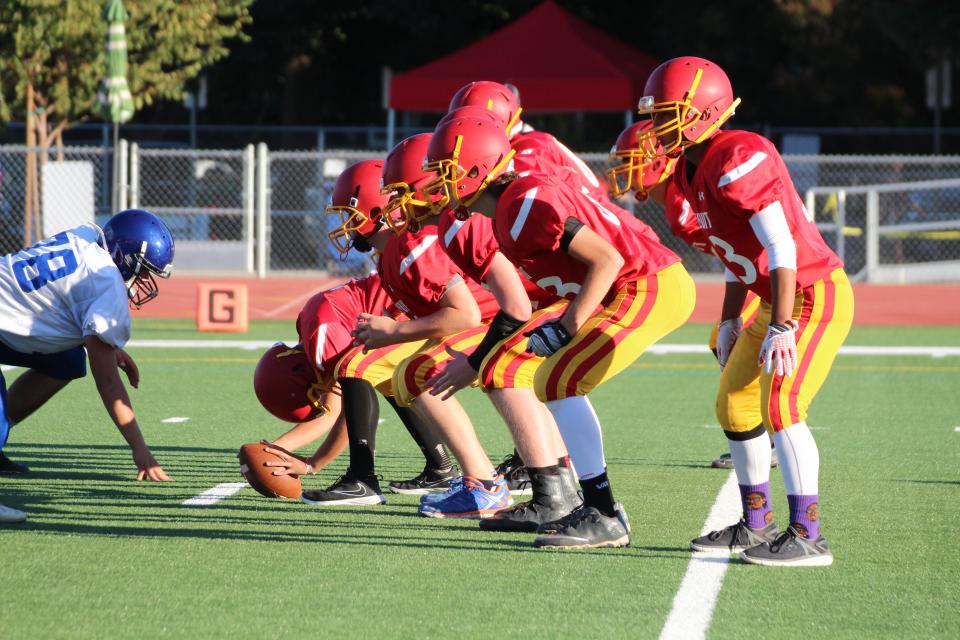 The Freshman Marauders ran for 302 yards on the ground and scored 7 touchdowns, in their 49-7 win over Davis last Thursday.
The offensive line played their best game this season, opening up huge holes for Jesuit running backs. On the first play of the game, Cash Taylor ran for 47 yards behind lane-opening blocks by Tucker Johnstone and others. Only a touchdown saving, diving Blue Devil tackle stopped the touchdown. Two plays later, Noah Clay ran untouched for an 11 yard touchdown run.
Jesuit's defense stopped Davis, with a nice pass breakup from Christian Sanchez. On their next drive, the Marauders gained steady yards off runs, and quarterback Jacob Peluso also threw to streaking Carson Keim for a 25 yard gain. Noah Clay aggressively charged 20 yards for another touchdown. 14-0 Jesuit.
Davis punted after their QB was grabbed by Noah Clay in the backfield and then finished off by tackler Sebastian Torres.
To start the second quarter, quarterback Chris Thorn threw a 23 yard bullet to Keleki Latu. Cash Taylor ran for his second touchdown. Ryan Young made his third consecutive extra point, and Jesuit led 21-0.
Davis needed scores, so they came out throwing. Unfortunately for the Blue Devils, Roman Canaan was one of the recipients, picking off a ball at the Jesuit 30 yard line. Back on offense, Lorenzo Cornejo ripped off a 75 yard run to the Davis 5 yard line. Chris Thorn followed his center Nick Swanson into the end zone for the Marauder's fourth touchdown. 28-0 Jesuit.
On the ensuing kickoff, Ryland Dewar picked up a Blue Devil fumble. Lorenzo Cornejo ran the ball for a 10 yard touchdown. 35-0 Jesuit.
Davis stalled again, and Chris Thorn ran a 38 yard cutback keeper for another touchdown. It was 42-0 at the half.
Under a running clock in the second half, Cash Taylor made a hard hitting tackle in the backfield. Yet Davis managed their first sustained drive and scored a touchdown. 42-7 Jesuit at the end of the third quarter.
The Marauders answered right back: Jared Manuel returned the kickoff for a touchdown. Davis marched down the field again and attempted a field goal, but it fell short. Chris Thorn took a knee, and the game was over. Final score: 49-7 Jesuit.