Jesuit Frosh vs Pleasant Grove Frosh
Thursday, September 21, 2017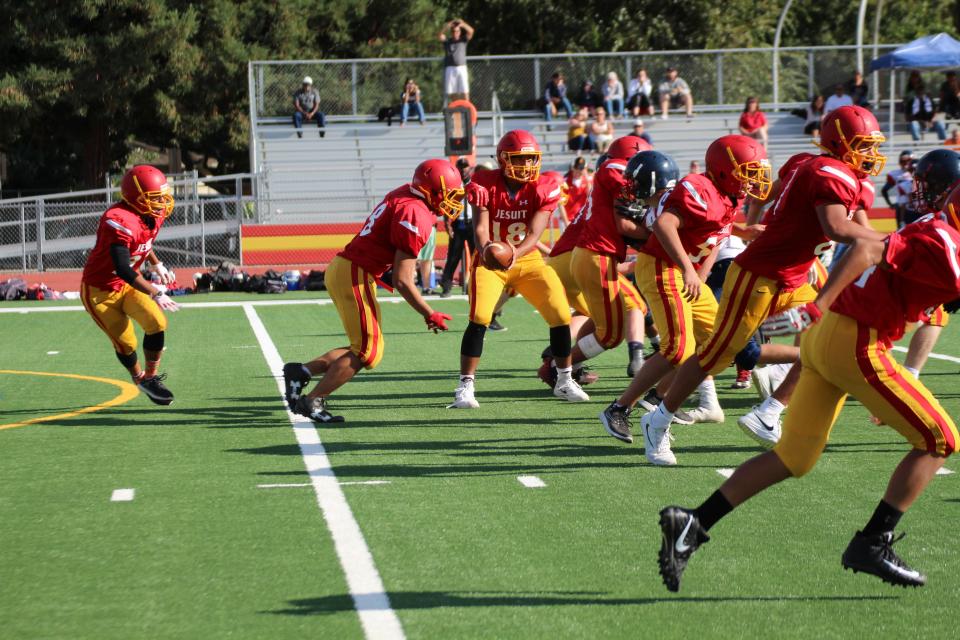 The Freshman Marauders defeated Pleasant Grove 21-6, improving their record to 3-2 (1-0 in Delta League Games).
In their first drive, Jesuit opened with 10 Yard run from Cash Taylor and then a 45 yard dive for a touchdown from Noah Clay. The Marauders looked like they were off to the races. Ryan Young kicked the extra point. 7-0 Jesuit.
After a touchdown saving tackle by Taylor Marks on a long Eagle kickoff return, Declan Mitchell broke up a 4th down pass, and the Marauders took over on downs. However, Jesuit stalled out on their own drive and punted.
On the first Eagle play from scrimmage after the punt, Pleasant Grove's errant outside pitch hit the ground, and Lorenzo Cornejo scampered 40 yards for another Jesuit touchdown. 14-0 Jesuit.
To start the second quarter, Pleasant Grove ran well, but fell short of sustaining a drive after some hard hitting tackles by Keleki Latu, Drake Bicknell, Cash Taylor and others.
When Jesuit took over, quarterback Chris Thorn looked to pass the ball, but ran the ball himself for 30 yard gain off of a huge block from Carson Keim. A fumble on the ensuing play allowed the Eagles to return the ball to the Marauder red zone. Pleasant Grove threw the ball into the end zone for their first touchdown, but PG's kicker slipped on the extra point. 14-6 Jesuit at the end of the first half.
Pleasant Grove ran into a red brick wall to start the second half, with great tackles from Sebastian Torres and Keleki Latu. After a few long gains from running back Noah Clay, it was Cash Taylor's turn to score the next touchdown, after a 41 yard run. 21- 6 Jesuit with 5 minutes to go in the third quarter.
To start the fourth quarter, PG had their longest drive of the game, with repeated pass completions churning up yards. Yet, on first and goal, Christian Sanchez sacked the quarterback, and two plays later, PG's running back ran into Carson Keim at the line of scrimmage.
Jesuit could not move the chains, and punter Taylor Marks made the best of a short snap with a rugby style punt in traffic tapped down 25 yards downfield by Declan Mitchell. Pleasant Grove punted back, and runs from Elijah Montevirgen and a pass from Thorn to Jacob Peluso moved the ball down the field and kept the clock running. Peluso almost scored off another pass to the left from Thorn, but he was stopped at the two yard line. With seconds left, Jesuit's Thorn took a knee to end the game. Final score 21-6 Jesuit.