Jesuit JV vs Christian Brothers JV – Holy Bowl
Saturday, September 9, 2017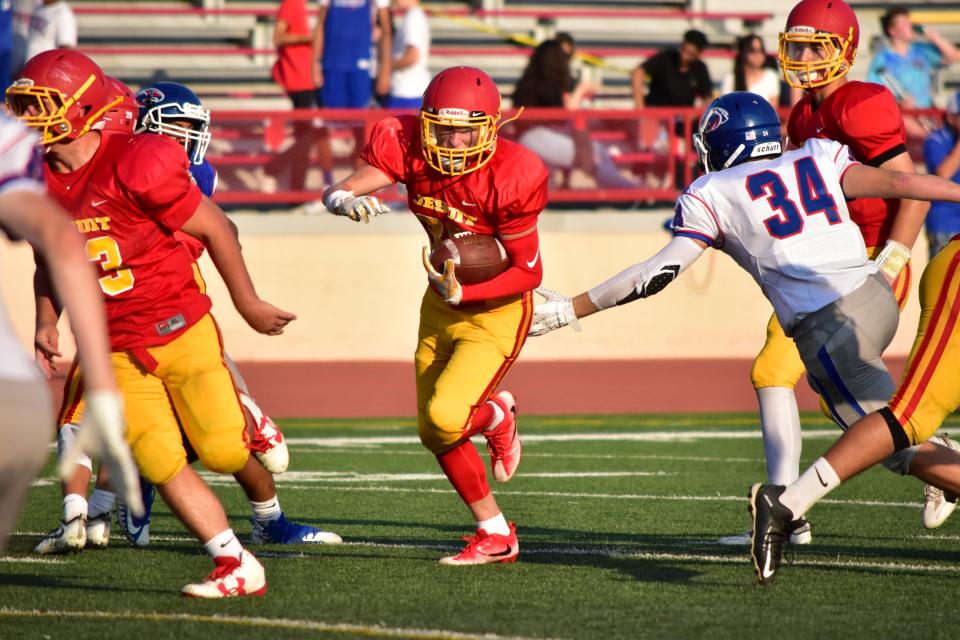 Jesuit got off to a great start taking the ball after the opening kickoff on their own 32 yard line and executing their longest drive of the night totaling 13 plays, eating up 5 minutes off the clock, and capped it off with an 18 yard touchdown strike from Daniel Susac to Tyler Sloan for Sloan's first TD as a Marauder. Susac picked up where he left off last week and dissected the Falcon defense with an array of passes on the drive completing five passes on the drive and also had a long run on a 14 yard scramble. Susac connected for 17 yards to Hall, 15 yards to Shults, 15 yards to Bagley, a short completion to Reddy. This long drive took the wind out of CB's sails and on the second play of CB's first possession the Jesuit defense forced a fumble and put it back in the hands of the Big Red Offensive machine. Jesuit went right back to work with a 20 yard completion to Shults and a another precision pass to Jacob Hall for a 12 yard touchdown. After the second successful PAT by Gabe Neumann, Jesuit lead 14 to 0 with 1:08 left in the first quarter. All told CB was only able to run five plays in the opening quarter for a total of 11 yards, a lost fumble and no first downs.
Christian Brothers started the second quarter with the ball and the Jesuit defense continued to dominate by stopping CB on a fourth down attempt for another momentum changer. Jesuit then went to their strong Veer running attack with solid rushing by Kiran Reddy and Ace Saca. Then it was back to the air as Susac completed passes to Sloan (28 yards), Hall (5 yards), and Sloan again (34 yards) setting up first and goal from the four yard line. Unfortunately a fumble on the exchange problem gave the ball back to the Falcons in what turned out to be the only way the CB defense could slow down the Marauders. The Big Red defense responded and immediately forced a three and out by CB to remove any thoughts they could get back into the game after the turnover. Jesuit took over on the CB 34 yard line after a Falcon punt and went back to work. Susac continued to carve CB up through the air, completing passes Nick Blake (6 yards), Shults (18 yards), and Jacob Hall (4 yards) for a TD. After the Neumann PAT, the score with 1:26 left in the half was Jesuit 21 – Christian Brothers – 0. CB tried to put something together with their last possession of the half gaining their only first down, but their hopes were crushed by a sack by Shults and Donelson to end the half.
To start the second half Jesuit picked up where they left off. On CB's first play after the kick-off, Jesuit forced another fumble that was recovered by Zach Bagley. It only took Susac one play to make them pay for the turnover. Susac hit Jacob Hall for a 34 yard pitch and catch for his third receiving TD of the game. Gabe Neumann was automatic as usual on the PAT and after less than one minute of play in the second half, Jesuit led 28 to 0. CB showed some fight on their next possession, finally putting together a nine play drive, but once again Jesuit's defense stepped up to the challenge and forced a CB turnover again on downs after a fine pass breakup on fourth and ten by Grant Flesher. The Jesuit Offense looked to establish the run on their next possession and the offensive line answered the call. The bulldozers up front (Tino Foondos, Colin Seymour, Matthew Collier, Liam McLoughlin, Jacob Stone, Aidan Goveas) created huge lanes for the running backs to run through. Parker Breen busted loose for a 15 yard gain and Ace Saca broke out for a 46 yard scoring run. After another successful PAT the score was Jesuit 35 – CB 0.
CB was able to finally able to score on their next possession. The Falcons hit on a 12 yard scoring pass for a touchdown after an 8 play drive. On the ensuing PAT attempt Shults broke through the middle of the line to block the kick attempt. Jesuit 35 – CB 6 with 41 seconds left in the third quarter.
Jesuit has a bye this week and returns to action to on Thursday, September 21st, 5PM to face their first league game vs. Pleasant Grove at Jesuit High School.
Offensive Statistics
Passing
Susac – 14 for 23 (61%) – 225 Yards – 4 TD's
Rushing
Ace Saca – 6 for 89 yards (14.8 yds/carry) and 2 TD's
Breen 4 for 22 yards (5.5 yds/carry)
Team total – 15 for 136 yards (9.1 yds/carry)
Receiving
Hall – 5 for 72 yards and 3 TD's
Sloan – 3 for 80 yards and 1 TD
Shults – 3 for 53 yards
Bagley – 1 for 15 yards
Team total – 14 for 225 and 4 TDs
Defensive Statistics
Tackling
Donelson – 8 tackles, 1 sack, 1 fumble rec
Blake – 5 tackles
Peterson – 5 tackles
Drinen – 4 tackles
Reddy – 7 tackles
Martinez – 2 tackles, 1 sack
Stone – 1 sack
Neumann – 2 tackles, 6 PATs
Special Teams
Neumann – 6 for 6 on PATs
Kickoffs – 7 total for average of 39 yards
Zero punts