Announcement from the Principal
Please welcome Henry Weinberger to our Jesuit family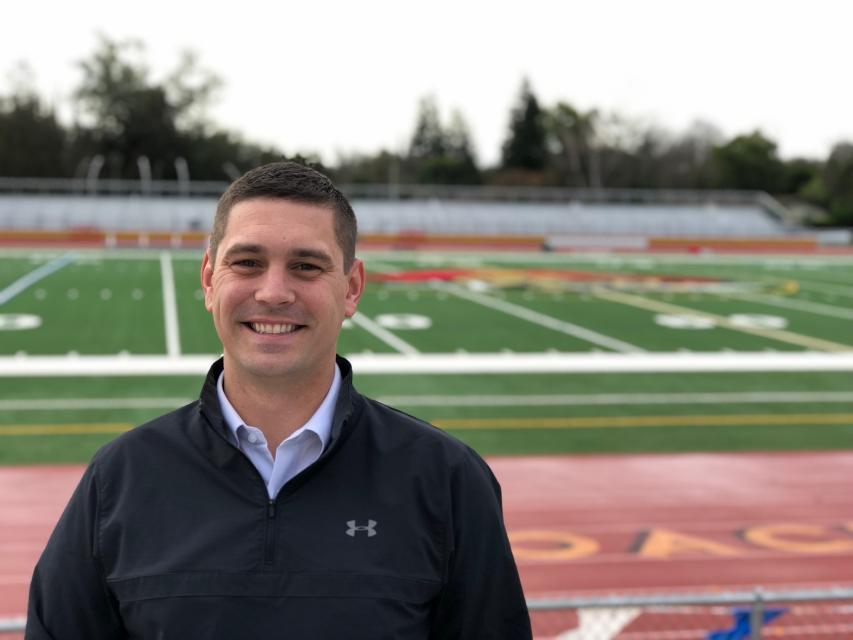 March 6, 2019
Students, Parents, and Friends of Jesuit High School,
I am pleased to announce that Henry "Hank" Weinberger has accepted the position of Director of Athletics at Jesuit High School in Sacramento. Hank joins Jesuit from the University of California at Berkeley, where he currently serves as the football director of recruiting. During his time at Cal, he also served as a Cal Olympics sports operations intern, interim women's golf coach, and the football assistant director for recruiting operations.
Hank graduated with a Bachelor of Arts in business management from California State University at Northridge, where he started his collegiate swimming career as a walk-on before earning a scholarship and was a four-time Big West Conference Champion finalist. Before the start of his senior year at Cal State Northridge, the university eliminated the swimming program. This experience profoundly impacted Hank, and subsequently, he devoted his education and career to sports management so that he could positively impact the lives of high school and college athletes. Hank went on to receive his master's degree from Valparaiso University in sports administration before spending seven years in the department of intercollegiate athletics at Cal and two years with the Cal Alumni Association.
Hank had an intensive interview process with three independent panels of Jesuit administrators, directors, and coaches. He shared his vision of leadership at Jesuit to be framed by Faith, Academics, Integrity, Truth, and Honor. It was important to Hank that we begin with Faith. He has a vision of an athletic department serving as a vehicle for the fulfillment of the mission of Jesuit High School. I am excited to support Hank in promoting a program where the experiences of our student-athletes, parents, officials, coaches, opponents, and our governing body is a testament to Jesuit's mission that strives to form young men of competence, conscience, and compassion for the Greater Glory of God.
In accepting the position, Hank stated, "It is with great pleasure that I am joining the Jesuit High School family. I look forward to getting to know the great young men, parents, faculty, staff, administration, alumni and supporters of Jesuit High School.
During the interview process, it quickly became very evident to me that all of our faculty and staff members are committed to the overall success of each student. The community provides all students not only with a top-tier education, but also the opportunity to thrive through co-curricular activities, and I am committed to working with the tremendous staff already in place to provide an experience for each student-athlete that they will cherish and take life lessons from for years to come."
In one of his letters of recommendation, a colleague at Cal described Hank as someone whose "attitude helped him foster a great working environment by working harmoniously side-by-side with his colleagues while simultaneously improving himself. He is a true team player while being an excellent leader." Another colleague stated, "Hank knows quality, and he knows the culture. Possibly, his most treasured gift is the authentic enthusiasm that he brings to all and for all that he does."
In addition to his experience in golf, swimming, and football, Hank was a high school baseball player and an Underwater Hockey National Champion. Hank will begin as Jesuit's athletic director on May 1, 2019, and is succeeding Greg Harcos '89, who has served as athletic director for the last four years. Greg will be returning to the classroom at Jesuit full-time where he has been a valuable member of the faculty for more than 20 years.
Jesuit will host an event on April 3, 2019, at 6:00 p.m. for all members of the Jesuit High School community to meet Henry and hear his vision for the athletic department. Watch for more information about this event later this month.
Please join me in welcoming Hank Weinberger to Jesuit High School. Go Big Red!
Sincerely,

Michael Wood '99
Principal