Christian Covert '22; revitalizing school spirit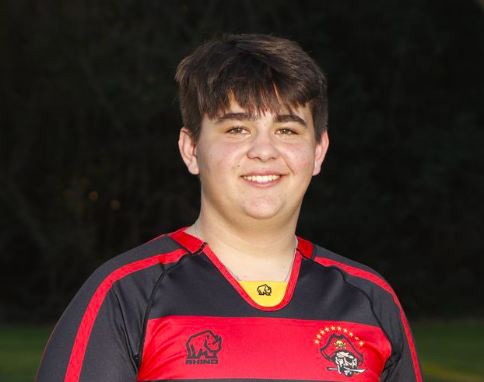 For the last four years, Christian Covert '22 has immersed himself in all aspects of campus life at Jesuit High School Sacramento. He is known as a dedicated varsity rugby player and exuberant classmate, but his most notable involvement is being the Student Executive Council Vice President.

Christian diligently works behind the scenes to manage and promote school events. He believes it is important to prioritize the happiness of the student body above his own interests.
"There are some activities which I am not the most interested in," Christian said. "I can sometimes lose interest in participating, but I must realize that this is bigger than one little event and that it is just a small piece to the puzzle. I must stay positive and continue to show enthusiasm to keep students engaged."
Christian's dedication to enriching the lives of others isn't exclusive to his behind-the-scenes work on Student Council. Even in his day-to-day interactions, his exuberance is palpable as Christian extends his charisma to teachers such as Social Science Teacher Mr. John Flynn '98.
"Christian is extremely authentic, loyal, and hard-working," Mr. Flynn said. "These traits manifest themselves in Christian's ongoing care and concern for his friends, school, and local community; as well in his style to never ask someone to do something he is willing to do as a leader. Christian is a true 'we not me' guy; he always puts others first and has a true sense of justice and what is right."
Besides being a devoted leader, Christian has also proven himself as a committed member of the Jesuit rugby team. Although Christian's role on the team may differ from his position on the student council, A.J. Blomquist '22 finds that Christian has the same infectious eagerness present in all of his work on campus.
"Christian helps to keep the morale of the team high, often cracking jokes or giving people compliments, especially the new members of the team," A.J. said. "While he has suffered multiple injuries that have prevented him from playing for the majority of the last few years, he is still heavily involved with the team and comes to most, if not all, of the practices."
Christian's attitude is a deliberate part of his goal to revitalize the school spirit Jesuit had prior to COVID-19.
"The thing which has inspired me most throughout my journey with the student council has been to bring back the enthusiasm and excitement we once had," Christian said. "I remember my freshman year and how many activities, rallies, sports events, and intramural activities that the student council had put together. I remember how fun and engaging they were and I hope to reciprocate this for our current students."
If the laughter of his peers and smiles of his teachers are any indicator, Christian Covert has left the great mark on campus that he has dreamt about since his freshman year. His positive influence and school spirit permeates throughout the Class of 2022 and beyond.