Clayton Valley outmatches Jesuit's varsity football team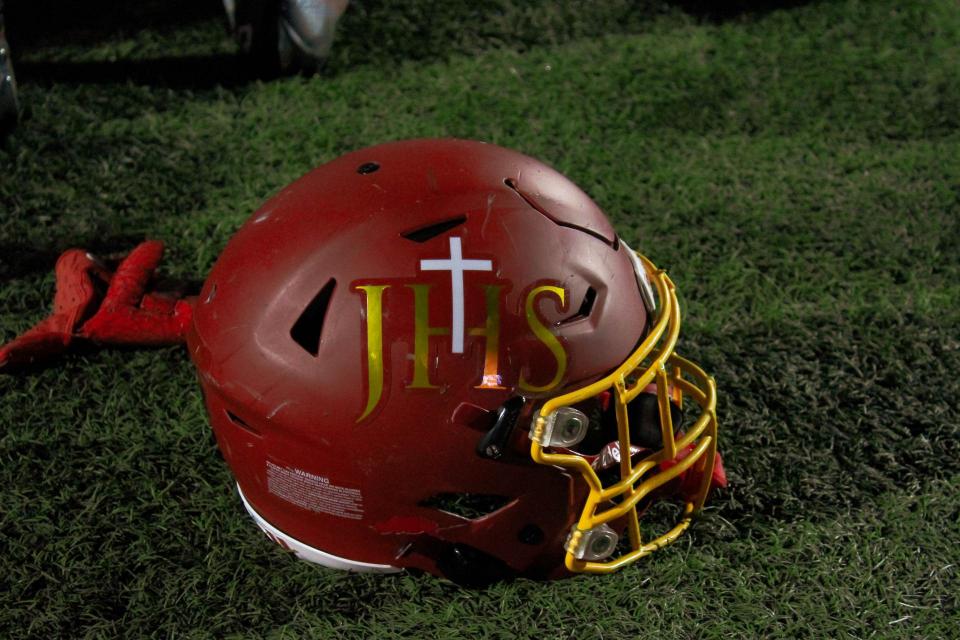 On Saturday, Oct. 1, Jesuit High School Sacramento's varsity football team played a non-league game against Clayton Valley High School. Jesuit lost 35-21.
Jesuit made a strong rally in the second quarter, but Clayton Valley sealed the game in the third quarter with two touchdowns.
Wide receiver and safety Trenton Dewar '23 points to a lack of effort and physicality with how the game ended.
"For sure our physicality needs to increase," Trenton said. "Our effort definitely needs to increase if we want to win games."
Defensive Coordinator Coach Sean Morris echoes Trenton's insights when assessing the team's performance.
"We left a lot on the table," Coach Morris said. "[But,] our effort wasn't where it should have been. I felt like we started off the year very strong effort-wise, [but then] got away from things that we did very well."
Coach Morris also believes that Jesuit's poor performance during the game was because of mental blocks they experienced when they found themselves in adverse positions.
"I think every possession matters," Coach Morris said. "I don't really believe in momentum. To execute as a football team, even when things go wrong, it really shows [how] a football team [can perform,] how [they] answer [to] that adversity. So I can't pinpoint one possession that really mattered. People always talk about 'this play […] that play', but it's more of 'how are we handling adversity when those possessions go wrong.'"
Running back and linebacker Tatum Pappas '23 is hopeful that with greater effort and player development during practice, Jesuit can pull out a win at home this Saturday, Oct. 8, when they play Franklin High School at 1 p.m.
"[The team must] put more effort in during practice, and just really focus on ourselves, and not the other team we are playing, just us," Tatum said.