Clothing Exchange Closet helps students stay in uniform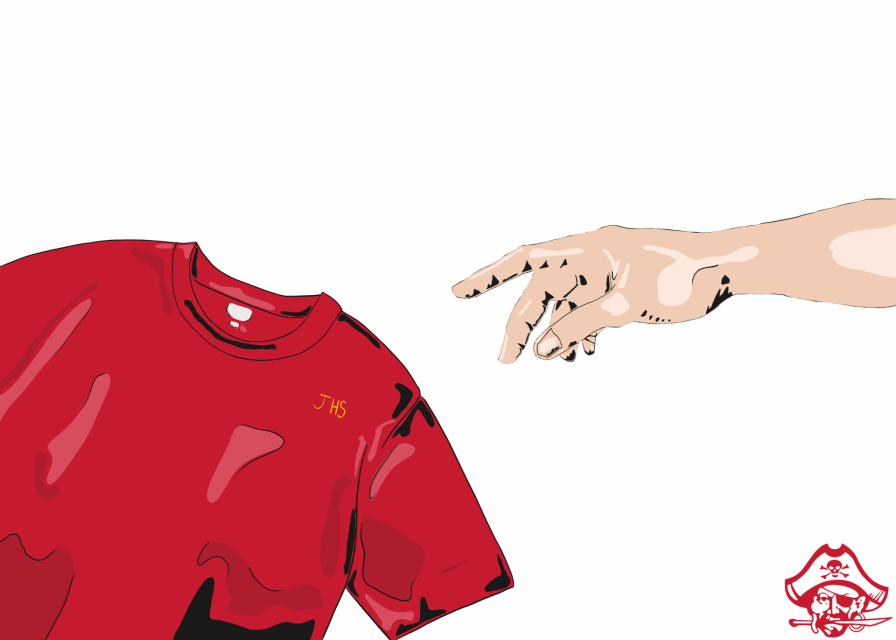 When soon-to-be freshman Viliami Sitauti '26 stopped by Jesuit High School Sacramento to drop off some paperwork, he found out that his uniform wouldn't be arriving until September, a month into his freshman year. Luckily, he was able to get free, dress-code compliant logo wear for free from Jesuit's Clothing Exchange Closet.

"I thought the closet was really helpful because I would've never had a uniform, and since Jesuit clothes are very expensive it really gave my parents a relief," Viliami said.
The Clothing Exchange Closet offers a one to one exchange process to all students. For instance, if a student donates two polos, they get two polos of their choice in return. Additionally, if a student needs a piece of clothing because their clothes got ruined or they just forgot, then they can come to the Clothing Exchange Closet. Clothing Exchange Manager Ms. Kristan Schoel has played a major part in organizing this.
"It's great where if a kid comes to school and he steps in a puddle and he gets wet or he comes to school and forgets that it's dress day, he can always come to the closet, grab something, and throw it on, so it's really convenient," Ms. Schoel said. "And it's all nice and organized for them too."
Ms. Schoel took on the role of Clothing Exchange Manager because of her interest in organizing things, and along the way, she has gotten to meet new people in the community, something she has enjoyed very much.
"I love organizing and felt this would be a great fit for me," Ms. Schoel said. "As a new parent of a freshman, I have already gotten to know many other families from this opportunity and met some great people!"
The closet has been around for about three years now, but something similar existed before it. Before 2019, it was known as the Clothing Closet, but it was rarely used. When Accounts Receivable and Student Accounts Coordinator Jessica Billigmeier came to Jesuit in 2019, she and a group of student volunteers began to organize the closet and put the new system in place, soon transforming it into the now titled Clothing Exchange Closet.
"There were a lot of things that were donated that were unusable for students, so we went through and had to donate six fifty-gallon garbage bags of clothes and items that wouldn't be able to be utilized by students," Ms. Billigmier said.
In order to get clothes, the Clothing Exchange Closet relies on donations. Multiple clothing drives are held throughout the year, but the biggest one takes place at the end of the school year.
"We'll do another clothing drive probably in the spring," Ms. Schoel said. "And we always do one at the end of the year. For those seniors that are on their way out, it's nice for them to come back and return their clothes."
After they have received all of their donations for the year, Ms. Schoel and Ms. Billigmeier can gauge the amount of clothes they will have for the next year.
"Depending on how many donations we receive over the summer and towards the last days of school, we ask for students to participate in donating back to the brotherhood," Ms. Billigmeier said. "From those donations, we can then see how many shirts and polos we have to offer to the students."
The Clothing Exchange Closet has already helped so many students get the clothes they need for school and will continue to do so for many years to come.