Gym overhaul continues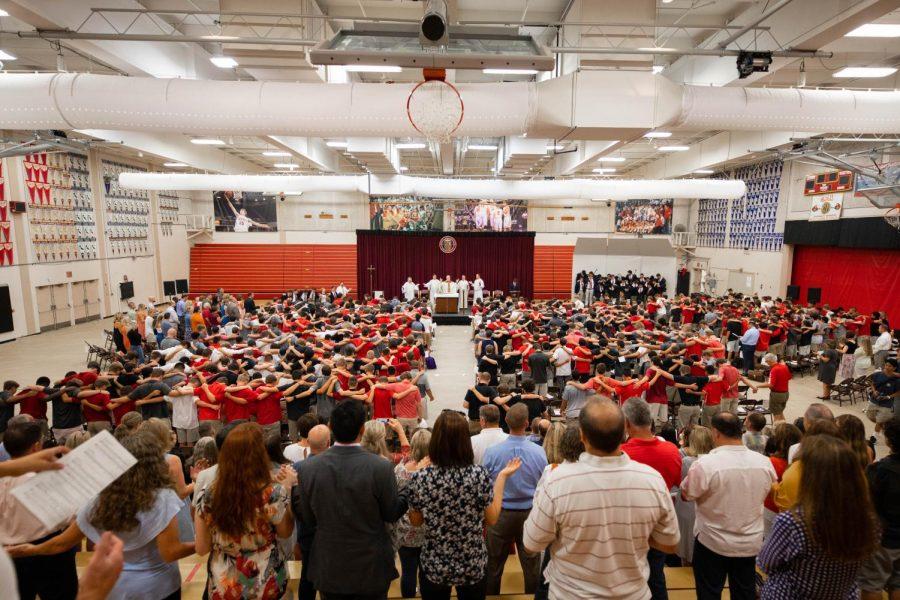 Jesuit High School Sacramento students entered the Fr. Barry Gymnasium last fall to find one major change: air conditioning. This was one renovation in a $2.8 million project that will continue and conclude this summer.
The other renovations will include new audio and visual systems, lights, bleachers as well as a newly redesigned and refinished floor. Furthermore, the Little Theater will be turned into an "extended lobby and gathering space" according to President Fr. John McGarry, S.J.
These changes are solving some long-lived problems within the gymnasium.
"Sound in the gym has always been — I don't know if you've noticed this — but it's really a challenge," said Ms. Charlene Cardenas, director of liturgy and theology teacher.
A sound system designed for basketball doesn't always lend itself well to liturgy. It takes a lot of effort to make the system work for different purposes.
"I got there before 7 [a.m.] at a previous liturgy, and they were already there," Ms. Cardenas said of our sound technicians and their leader, Technology Assistant Mr. Jared Bercea.
The visuals of the gymnasium will improve with a new paint scheme implemented on the court floor along with new lights to give faculty and staff more control over lighting. In addition, there will be a new digital interactive scoreboard.
The bleachers will be replaced to include hand rails and a new home section that will include chairs with seat backs.
All of these improvements were made possible by an ongoing fundraising process that is allowing Jesuit to meet its budget. There are still two initiatives raising money for the project. The backs of the bleacher seats will be sold to primarily alumni donors to raise more funds. Additionally, the new lobby will include a "Built by the Brotherhood" wall that will hold the names of the donors that buy spots.
"It has been a successful fundraising project," Fr. McGarry said. "People have been very supportive."
Varsity Basketball Head Coach and Director of Student Activities Mr. Tim Kelly believes a first-class gym is essential for any high school.
"I think making our gym the premier high school gym in Sacramento helps our school," Mr. Kelly said. "It helps us become a place where we can host big-time events."
From school liturgies to basketball tournaments, the redesigned gymnasium will surely be a benefit for Jesuit in the years to come.
Jared Agos '21, Club Contributor