Jesuit Basketball continues to build trust and teamwork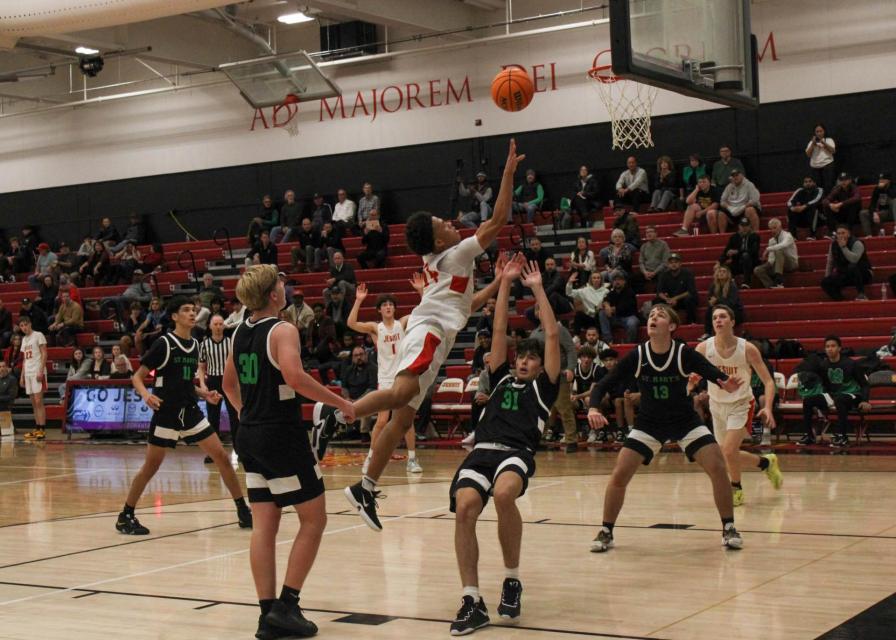 From Dec. 27 to Dec. 30, the Jesuit High School varsity basketball team competed in the Damien Classic which took place in Los Angeles, California. They managed to advance to the quarterfinals, beating some strong schools before falling to Ironwood High School, a top-ranked team from Arizona.
With key starter Andrej Stojakovic '23 going down with an injury during the tournament, forward Cole Epperson '24 believes the team's chemistry was strengthened with newfound experience against tougher competition.
"I think we learned that even without Andrej we're still a good team," Cole said. "We know how to work together and trust each other. And even without him we did a pretty good job throughout the tournament."
Andrej echoes his teammate's sentiment about their team's performance from his observations while being sidelined by an injury.
"I think down in L.A. was a really good lesson; just playing against better competition," Andrej said. "I felt like they handled it super well; just trusting one another even with two pieces missing. And now that we got Kevin back it should be easier to transition to playing better teams with more help on the court."
Then, the game against Pleasant Grove High School on Jan. 4 seemed to confirm these remarks, as Jesuit convincingly defeated the Eagles 64-52 after scoring 28 points in the third quarter, while only allowing six from PGHS.
With another league game against Sheldon High School on Jan. 6 at 7:30 p.m. at Jesuit High School, Cole is confident that the team can achieve further success by sticking to their system.
"We'll just keep practicing the way we are and doing a good job," Cole said. "I think we're going to win league this year. I think we got a talent and skill and if we just keep practicing and trust each other we will."
Jesuit will look to improve their record in this year's Holy Hoops matchup against Christian Brothers High School. The home game will be on Saturday, Jan. 7 at 6 p.m.