Jesuit basketball continues undefeated season with win over Christian Brothers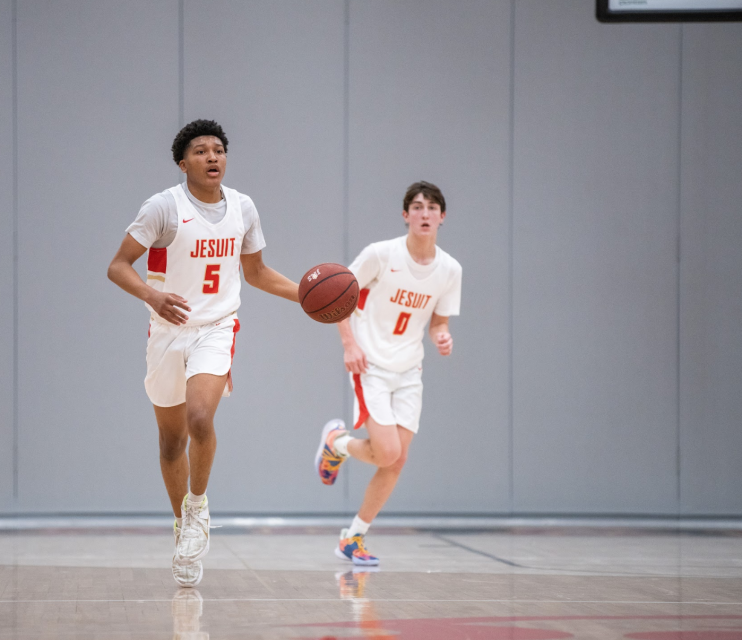 In the annual matchup between two longtime rivals, the Jesuit High School Sacramento varsity basketball team defeated Christian Brothers High School 69-61 on Saturday, April 24.
Guard Chris Holley '21 led Jesuit with 20 points and shot 43% from the field. Wing Andrej Stojaković '23 scored 19 points and grabbed eight rebounds.
Chris was proud of the way his team battled and how they shared the ball.
"We were able to beat CB because we all played our hearts out and left everything we got on the court," Chris said. "We stuck to the game plan and never questioned it. We were not being selfish or ball heavy, we let the game come to us and we played at our pace and didn't let CB speed us up."
Jesuit Head Varsity Basketball Coach Mr. Tim Kelly was happy with his team's effort at times, but also sees areas of improvement.
"I thought that our effort and focus was up and down throughout the game and so when we were focused, we were really good and we would stretch the lead and then I thought we would relax and lose our focus, which let Christian Brothers back into the game," Mr. Kelly said. "Some of that is because it's an unusual season."
The win keeps Jesuit's undefeated record intact as the Marauders now have a 6-0 record.
Guard Jared Manuel '21 believes a large part of the team's success has been Jesuit's depth and how a new player seems to have a big performance every game.
"I feel like there's not one key player; everyone has their games," Jared said. "We're just doing really well as a team. I feel like we could do even better, but right now we're in a good spot."
The numbers back up Jared's claim as Jesuit has had a different leading scorer in each of its six games.
One of those leading scorers was Andrej Stojaković, who scored 27 points against Davis Senior High School. The son of Sacramento Kings' great Peja Stojaković, Andrej's play has caught the eye of Jesuit's coaching staff.
"He's really good, he's very skilled," Mr. Kelly said. "We kind of rushed into a season so he doesn't have a lot of varsity experience, but he's figuring it out very quickly."
The Marauders will see if they can continue their undefeated season when they go on the road to play Pleasant Grove High School on Thursday, April 29 at 7 p.m.