Jesuit basketball maintains 10 game win streak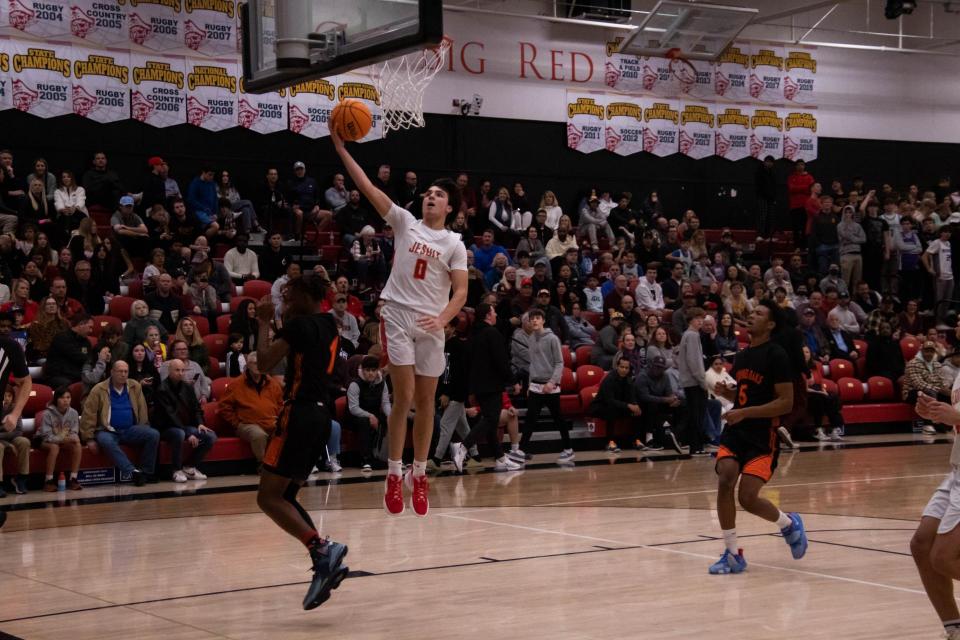 Historically, another basketball season has meant another Marauder playoff run, and this year is no exception. After beating Davis Senior High School 74-66 on the road last Friday, the Jesuit High School Sacramento Marauders Varsity team are set to face off against Monterey Trail High School in their first playoff game on Wednesday, Feb. 15.

Following the win at DSHS, star forward and McDonald's All American Andrej Stojakovic '23 opened up on how he felt the team performed with the circumstances they were under.
"I think we played alright," Andrej said. "I mean, we didn't play the way we wanted to, but it was their senior night and they had a big crowd, so I'm just glad we got it done at the end of the day."
While the players may be disappointed that they didn't play their best game, heads are still high. Head Coach Timothy Kelly acknowledges their imperfect performance but is still satisfied with their ability to end with a win.
"I was proud of us that we got a win," Coach Kelly said. "I didn't think we played our best game of the year. But sometimes that happens and you got to find a way to win on an off night and that's what they did."
Having concluded their final regular season game, players and coaches took time to reflect on the season. Coach Kelly recalls the team's success in the face of adversity.
"I thought our team did a good job," Coach Kelly said. "We were kind of mixing and matching lineups all year long with injuries, and we just had various guys out for periods of time. A lot of guys stepped up in different moments, and I think we had a good regular season."
Now the team is shifting their focus to the playoffs with their first opponent: MTHS. Coach Kelly explains a simple game plan in regard to approaching the MTHS game on Wednesday.
"They're really good, so we have to value the ball and not turn it over," Coach Kelly said. "We have to rebound and defend, and that's what playoff basketball is about."
Andrej shares a similar view, putting his beliefs into the simple, yet essential part of their play.
"We have to just play our game, play defense, and score in transition," Andrej said.
After finishing the season strong with the team's 10th straight victory, the Marauders are now gearing up for their first playoff matchup. They are entering cool and confident, making sure to play high quality basketball by minimizing turnovers and playing strong defense.