Jesuit basketball scores two wins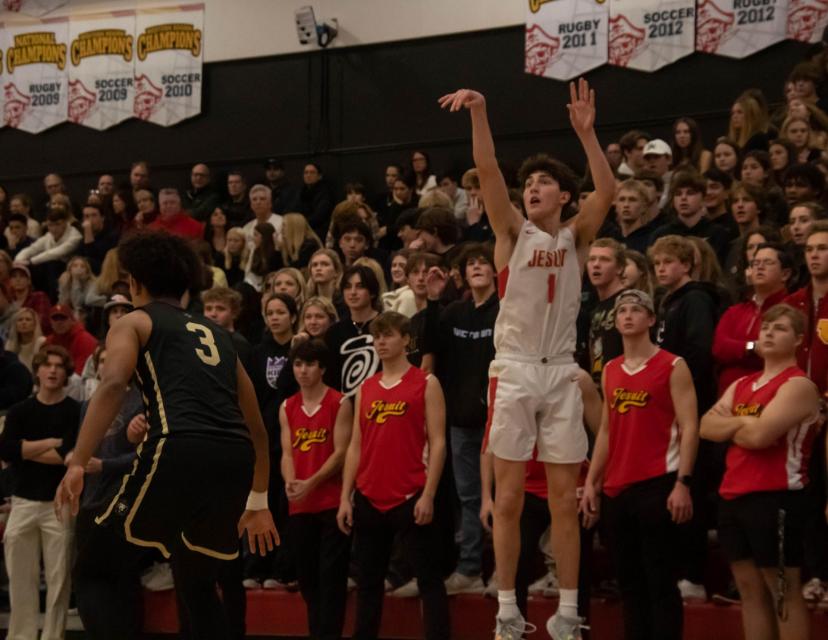 On Jan. 20 and Jan. 23, the Jesuit High School Sacramento varsity basketball team played two Delta League games against Franklin High School and Elk Grove High School.

Jesuit won both games by a sizable margin, beating FHS by a score of 58-48 and defeating Elk Grove by a score of 86-36.
Forward Cole Epperson '24 thought the team played with a sense of togetherness and camaraderie, which was the main contributing factor to their wins.
"We all passed the ball really well and just played a good, all-around style that helped us get the win," Cole said.
Although the Marauders have been playing well, Head Coach Timothy Kelly thinks there is still room for improvement in the matchups to come.
"Especially last night in the Elk Grove game, we shot the ball really well," Coach Kelly said. "So hopefully we can continue to do that and stay hot on the offensive end. But we need to work on getting better on the defensive end, too."
Coach Kelly reiterates that the team's ultimate goals require continued improvement.
"Our league is good," Coach Kelly said. "It's full of good coaches and good teams; and our goal is to win our league and so we need to stay really focused and continue to work on getting better everyday."
Jesuit will host Cosumnes Oaks High School on Friday, Jan. 27. at 7:30 p.m. Come out and support the Marauders as they make a push for the league title.