Jesuit basketball team suffers three losses as playoffs approach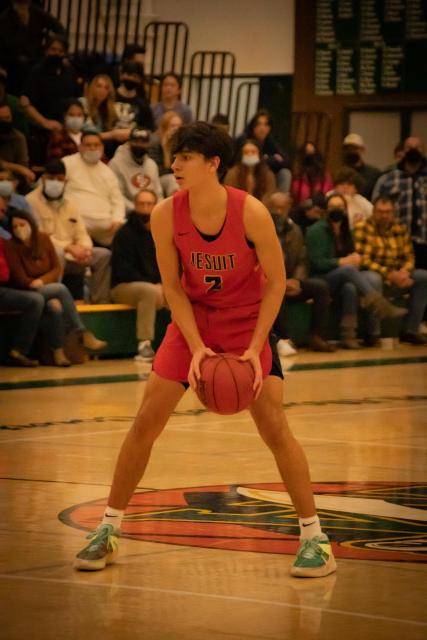 From Jan. 14 to Jan. 21, the Jesuit High School Sacramento varsity basketball team played four games. They went 1-3 during this stretch changing their record from 6-7 to 7-10.

In the first game, on Jan. 14, Jesuit beat the Franklin High School Wildcats by a comfortable 66-42 margin at home, which boosted their record to 7-7.
Going into the game, Jesuit had been on a four-game losing streak. Fortunately, they had an all around performance, and led through all four quarters thanks to stellar defense and good shot-making. A key 21 point performance by guard Jayden Teat '23 propelled the Marauders to the win.
Forward Cole Epperson '24 also contributed to the victory with 13 points and five steals. Guard Owen Ubaldo '23 believes that while the offense has room for improvement, the defense was formidable.
"Personally, I think the team played pretty well," Owen said. "We just have to work on the offensive side, but on the defensive side we did very good; grabbing boards, crashing everything, just doing everything we could."
Next, on Jan. 15, the Capital Christian Cougars defeated Jesuit 55-49 at Sheldon High School, which brought their record to 7-8. After a back-and-forth game, Capital Christian pulled away in the second half despite a 4th quarter surge from Jesuit.
Explaining the loss, forward Andrej Stojakovic '23 highlighted Capital Christian's determination to win as well as Jesuit's lack of a game plan to combat the Cougars' offensive attack.
"The more well-prepared team won that game," Andrej said. " I don't think we were prepared enough and I don't think we had a set game plan against Capital. So they were just more prepared to face us and they wanted it more."
On Jan. 19, the Marauders played their next game against the Cosumnes Oaks High School Wolfpack at Jesuit. Andrej and Jayden lead the team in scoring with 16 points each. Going into the fourth quarter the Marauders were down five, and were not able to close the gap losing 46-45.
Head Coach and Social Science teacher Timothy Kelly believes the team played poorly from the start.
"The Cosumnes Oaks game was not good for the Marauders," Coach Kelly said. "We came out flat and eventually lost at the buzzer. Credit to Cosumnes Oaks for playing hard and seizing the opportunity."
Two days later, the Marauders looked to end their two game losing streak on Jan. 21 against Sheldon High School at Sheldon; however, Jesuit lost another close game, losing 59-55, making it their third loss in a row by six points or less. Coach Kelly sees this as another loss due to late game play.
"We played hard against Sheldon," Coach Kelly said. "Similar to the Capital game, we ran out of steam towards the end and lost another close game."
In this stretch, Coach Kelly believes that the team's biggest issue has been consistency, but looks at the rest of the season with hope.
"We are really struggling to be consistent," Coach Kelly said. "We look great at times and we look really bad at times. This team has played a very competitive schedule, and we are hoping that the tough games to this point have helped prepare us for our final push through the league and into the playoffs."
With these problems in mind, the Marauders have something to work towards and with most of their season behind them they need to start improving soon. Playoffs are closing in fast, and their last game of the regular season is on Feb. 11. With fans now allowed to attend games again, let's show out the rest of the season!