Jesuit basketball winter season sees wins and losses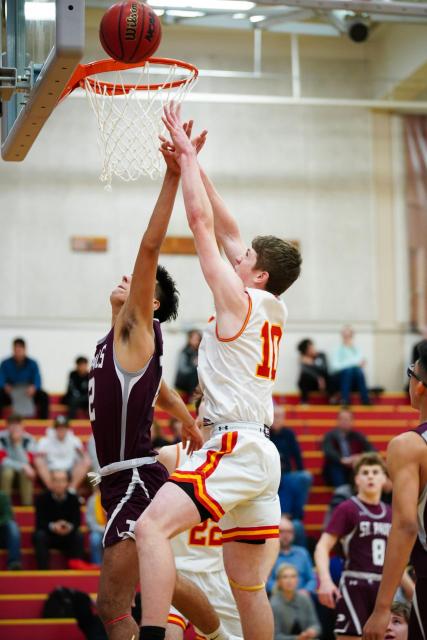 The Jesuit High School Sacramento varsity basketball team is already 13 games into their season and have had mixed results, amassing a record of 6-7.

During the winter break, Jesuit played Rio Americano High School, Granite Bay High School, and played in the Classic at Damien, a basketball tournament in Los Angeles, California. During the break, they had a losing record of 1-6.
The first game of the winter break was on Friday, Dec. 17 against local rival Rio. Guard Reid Jones '23 describes the increased magnitude because of the rivalry.
"The atmosphere and hype is taken to another level during this game," Reid said. "Whether it is the loud parents, big student sections, or the friendly trash talk that goes on between opposing players before, it always seems to be a close game."
Sadly the game would end in a nail biting 65-61 loss. Reid explains that even though the team lost, it was still a good team effort.
"I believe that we played hard and the ball just did not go our way that night," Reid said. "Our shots were not falling as they usually were, but I think we made up for it with our hustle and playmaking."
Next, the Marauders played GBHS on Dec. 20 in a 66-47 win, which gave them their sixth win of the season. The team's win ended a two game losing streak and Varsity Basketball Head Coach Tim Kelly believes the win was a step in the right direction.
"We bounced back against Granite Bay," Coach Kelly said. "We played much better defense and shared the ball on offense."
Jesuit also played in the Classic at Damien in Los Angeles, California from Dec. 27 to Dec. 30. Unfortunately, they were unable to win any of their four games. Most of their losses were by double digits, but their last game of the tournament against Orange County High School went down to the wire and ended in a 57-54 loss. Even with the losses, Coach Kelly still sees many benefits from their experience in the tournament.
"We were up and down during the Damien Classic tournament," Coach Kelly said. "The competition level was very high and there was little room for error. I think we learned some great lessons by playing in the games."
Jesuit's struggles during the tournament can be partly attributed to some absences due to COVID-19, which started during the Classic at Damien tournament. Coach Kelly believes that these unexpected absences has caused the team to miss valuable gym time.
"It is certainly unusual to take off two weeks from practice in the middle of a season," Coach Kelly said. "I'm sure it will take us some time to get back to where we were."
After having a losing record and struggling to find any sort of a groove or consistency over the winter break, Coach Kelly has identified places where the team needs to improve.
"We can improve in all phases of the game," Coach Kelly said. "I would like to see us defend a lot better than we do right now"
About a month into the season, the Marauders have gained lots of on court experience and look to improve in all aspects of their game. Jesuit will be playing their first Delta League game of the season on Friday, Jan. 14 at 7 p.m. at home against Franklin High School.