Jesuit football brings momentum into season closer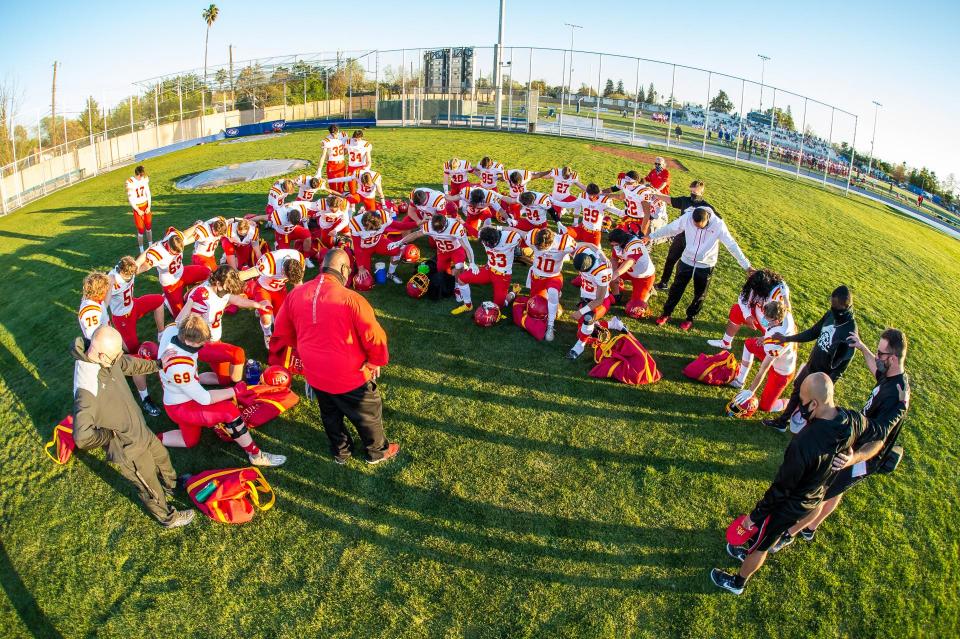 For the final game of their shortened football season, the Jesuit High School Sacramento Marauders are hosting the Vista del Lago Eagles this Saturday, April 17 at home.
Originally, the Marauders planned to face off against Davis Senior High School for their last game; however, Davis does not have enough healthy players to field a team for the game.
Vista del Lago, DSHS's replacement, are undefeated and hold a 4-0 record after recently defeating Christian Brothers High School 52-34. Jesuit, on the other hand, holds a 2-2 record after defeating Monte Vista High School 51-20 last week.
The Marauders are coming off a solid defensive performance last week in which they only allowed 23 rushing yards — something that they will need to replicate against Vista del Lago, who hasn't scored less than 40 points in a game this season.
Despite Vista del Lago being a talented team, Jesuit running back Ace Saca '21 is confident his team can be victorious. He also stresses the importance of winning the last game of the season and the final high school game for all the seniors.
"Against Vista del Lago, we just need to play the same way we did last week and we should be able to get the win," Ace said. "It's the last game for us, so we really want to win this one."
Jesuit defensive back and wide receiver Roman Canaan '21 is also looking to grab the win and celebrate with his teammates one last time.
"Going into our final game of this shortened COVID-19 season we just need to continue to press down on the gas pedal and get one final win with the boys," Roman said.
Although Vista del Lago is undefeated, the Marauders' confidence doesn't seem to be shaken. We'll see who comes out victorious in Jesuit's final game of the season on Saturday, April 17 at 1:30 p.m.