Jesuit football defeats Granite Bay coming off of a tough loss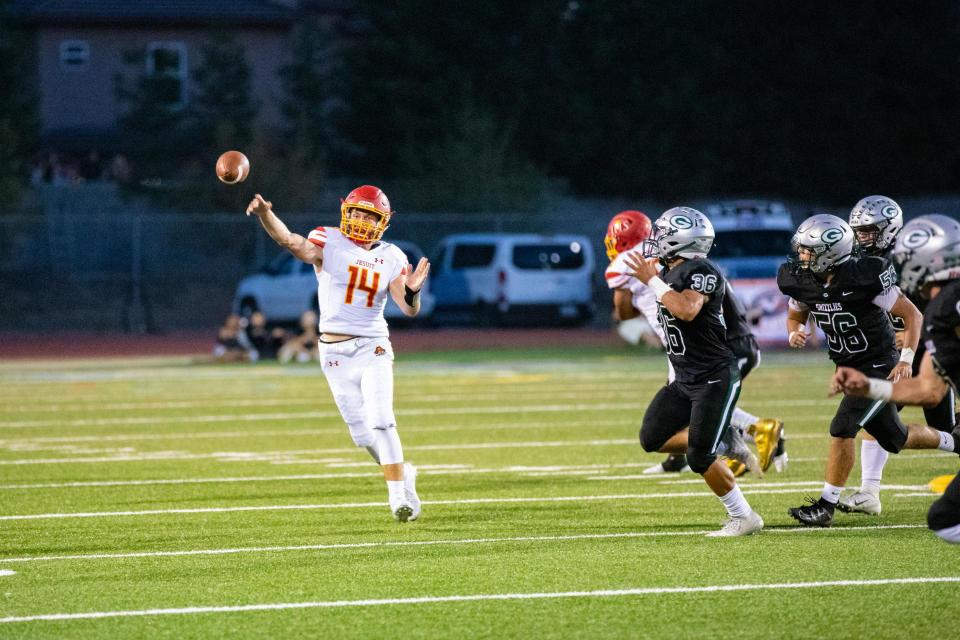 In their second game of the season, Jesuit High School Sacramento's varsity football team notched a win against Granite Bay High School with the final score of 28-14 on Friday, Sept. 3rd.
Jesuit handed GBHS their first loss, after starting the season undefeated (2-0). A key performance by Jesuit quarterback Preston Vukovich '22 had a lot to do with Jesuit's much-needed victory. He threw for 88 yards on a 63 percent completion rate, in addition to throwing two touchdown passes.
Running back Kai Santos '22 was a key contributor to the win, compiling 52 rushing yards and one touchdown. He credit's the coaching staff and their diligence for the way the team played down the stretch.
"I think this game had to be a full team effort," Kai said. "We had a short week; our coaches gave us an amazing scout. We knew exactly what they were going to run. I think we could have done a lot better, but this was a good bounce-back from [Monday's loss to Folsom High School]."
Tight end Kai Wallin '22, who contributed a touchdown to the victory, believes the previous game against FHS motivated the team to play better.
"I think we played great coming off of a rough game, but I really do think this is the tip of the iceberg," Kai said. "I think it went along very well."
In regards to the team's list of desired improvements over the course of the season, Offensive and Defensive Line Coach Sean Morris highlighted that attention to detail and execution are on that list.
"Execution and assignments can be improved," Coach Morris said. "First knowing our assignment, knowing what to do, and executing that."
Jesuit's next game will be the 50th annual Holy Bowl versus Christian Brothers High School at Hughes Stadium on Saturday, Sept. 11th, at 7:00 p.m.