Jesuit football pulls off a hard earned win against Sheldon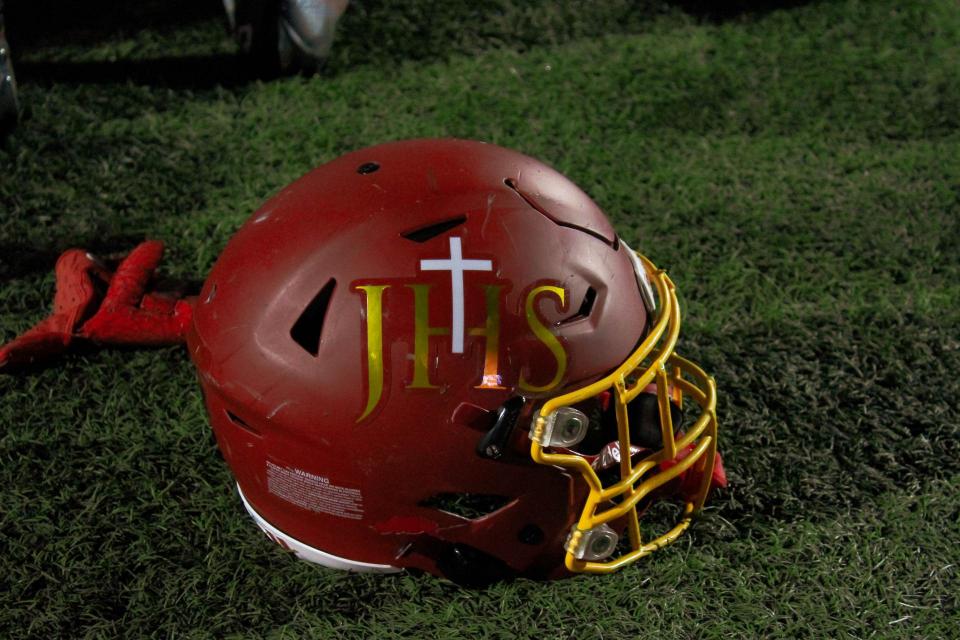 On Saturday, Jesuit High School Sacramento varsity football team defeated the Sheldon High School Huskies at home 35 to 21. It was a back and forth game, but in the end, Jesuit was able to pull out a hard earned win against a tough opponent.
Assistant Coach Sean Morris sees this win as a sign of improvement on the previous week, and is glad some mistakes were corrected during the game.
"I felt like we gave better effort than we did the previous week," Coach Morris said. "It was a great opportunity for our kids to move past some of those mistakes we made the previous week, and they made that move."
Running back and linebacker Anthony Seibles '23 also saw improvement, highlighting Jesuit's play in the trenches.
"I think we really picked it up from last week," Anthony said. "Our lineman really figured out what to do and what they were doing, and against [Christian Brothers High School] last week, we didn't play as well as I thought we would, but again going into the next week I felt like our lineman, and our running backs, and everyone as a whole picked it up, because we knew that Sheldon was going to be a tougher opponent."
Defensive tackle and running back Jagger Shaddix '23 thinks the team did well, overall, and emphasizes how well the defense played.
"I felt like we played pretty well honestly," Jagger said. "Defensively, we played pretty good. I felt like we could've straightened a couple things up on defense, but for the most part we played pretty good. Not having any turnovers on offense helped us out a lot."
Besides looking at how the team changed for the better, Anthony saw his own game progress, and he attributes that to following the game plan that the coaches set up for him.
"Personally, I felt like I did pretty good," Anthony said. "I followed what Coach Blanton and Coach Jay talked about, and just followed their plan, and whatever they said went, and that got me two touchdowns, and a pretty good game on defense."
Looking to the team's next game against Pleasant Grove High School, Coach Morris sees the path to success coming from a focus on the small things.
"The biggest thing is we need to keep building on our successes, and I don't mean wins; I mean by our small successes in practice," Coach Morris said.
Anthony agrees with Coach Morris, believing that practice can help the team beyond Friday's game and into the more challenging parts of the season.
"Just staying locked in, and staying focused everyday," Anthony said. "Coming to practice and working hard, and just being a team, and just building that brothership. I feel like if we do that, then we will be a solid football team for the rest of the year."
Jesuit plays Pleasant Grove on Friday at 7 p.m. on the campus of Sheldon High School.