Jesuit football pulls off win despite the loss of their starting quarterback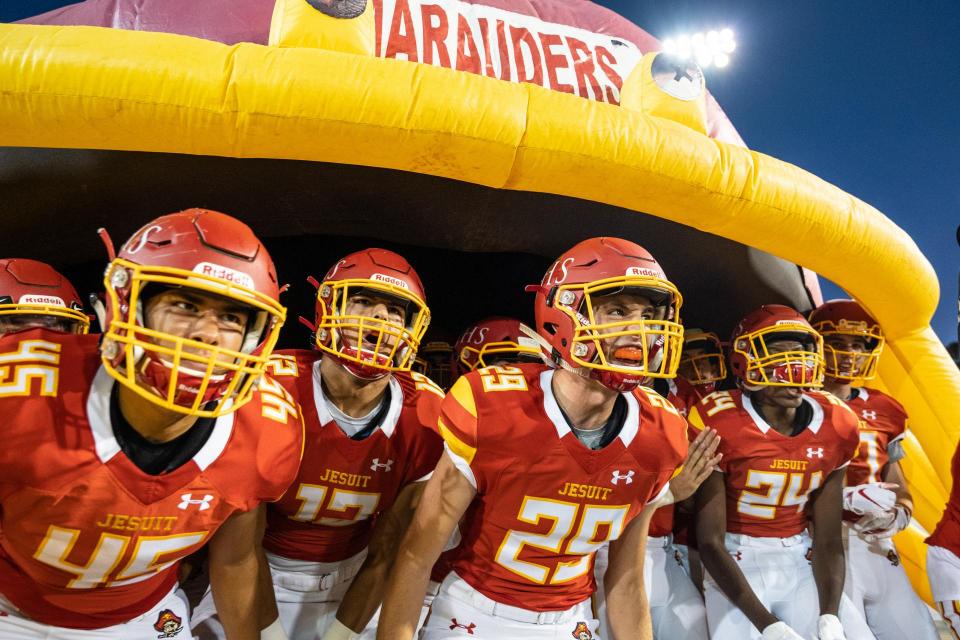 On Saturday, Sept. 18, the Jesuit High School Sacramento football team extended its winning streak to three in a 49-7 win against Pleasant Grove High School.
Despite the lopsided win, Jesuit Varsity Football Scout and Film Coordinator Coach Jonathan Isaac remained grounded when assessing the team's performance.
"We played relatively well," Coach Isaac said. "Still a lot of sloppiness to clean up in terms of penalties and execution, but overall a solid effort."
The Jesuit Marauders started out the game with a quick 7-0 lead in the first 3 minutes thanks to the running game of Kai Santos '22, who ended the night with two of Jesuit's six touchdowns.
Near the end of the first quarter, starting quarterback Preston Vukovich '22 was sacked and went down hard. The tackle galvanized Kicker Alexandro Rojas '22.
"When I saw Preston on the floor I was shocked," Alexandro said. "But it just made me think we have to win this one for him."
Preston was not able to return for the rest of the game, so second string quarterback Trenton Dewar '23 had to finish the game and was able to build on the lead.
"I think we played with great composure after Preston got hurt," Coach Isaac said. "We rallied around Dewar."
Trenton had several incredible plays throughout the game including a 40 yard touchdown pass to Alexandro Rojas. Despite the win, he still knows that he can be better.
"I think the team played very well especially after what had happened to Preston," Trenton said. "I personally think I didn't play to my full potential but my brothers picked me up and helped me through the game."
Later in the game, Garrett McGriff '22 ran for 56 and 55 yard touchdowns, finishing the game with 187 yards.
Alexandro Rojas looks to continue the winning streak against the Inderkum High School Tigers.
"We can take our momentum into the next game," Alexandro said. "We just have to be more prepared than Inderkum."
Jesuit and IHS usually aren't matched up in the regular season. The last time these two teams faced off, Jesuit lost 52-35, ending their 2016-2017 season playoff run.
Coach Isaac still remembers the loss and plans on beating the Tigers this time.
"It was a tough loss," Coach Isaac said. "[We need to] be in a position to stop completions and slow down their run game. [T]hey have game-breakers all over the field, dudes that can take it to the house from anywhere, so tackling in space will be key for defensive success."
Going into the game Jesuit has a record of 3-1 and looks to hand IHS its first loss of their season on Saturday, Sept. 25.