Jesuit football shutout Inderkum in Homecoming game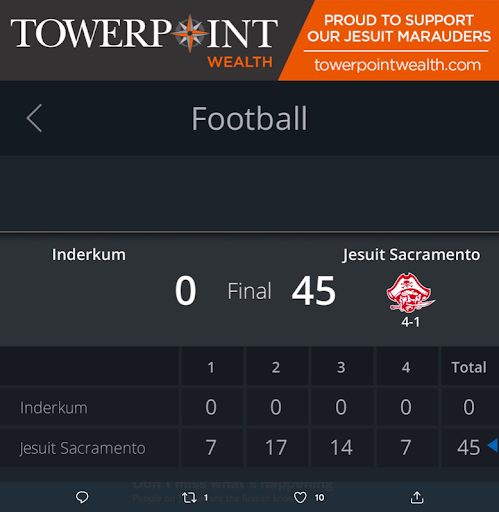 On Saturday, Sept. 25, the Jesuit High School Sacramento Marauders had a tremendous 45-0 victory over Inderkum High School in their Homecoming football game.
The Marauders started off hot with a 12 yard TD pass just five minutes into the first quarter by quarterback Trenton Dewar '23 to running back Kai Santos '22, to go up 7-0. With five minutes to go in the second quarter, cornerback Jackson Hagopian '22 made the game 14-0, with a massive 62-yard pick six.
By halftime, Jesuit increased their lead to 24-0 with a five-yard rushing TD and a successful field goal. But, it didn't stop there. Running back Garret Mcgriff '22 began the second half with a 90-yard kickoff return TD, making the score 31-0. With three minutes to go in the 3rd quarter, Trenton made a 51-yard TD pass to wide receiver Reed Datwyler '22 bringing the game to an even more impressive 38-0. Finally, running back Anthony Seibles '23 made the score 45-0 with a 27-yard rushing TD.
The Marauders finished with 223 total yards and six touchdowns. Along with the show out offense, the Marauders played lockdown defense by forcing two turnovers on downs, one fumble recovery, one interception, and a shutout.
Varsity Football Scout and Film Coordinator Coach Jonathan Isaac lauded the team's preparation.
"Our defense was very well prepared… for their offense," Coach Isaac said. "Overall, I like the preparation and we rallied our backup quarterback Trenton Dewar with Preston out."
After the Marauders starting quarterback, Preston Vukovich '22, was injured in the previous game, Trenton stepped up and had a standout game going 7/9 on completions with 103 passing yards and two TD passes.
Jack Hemmert '22 was excited by the great efforts of both the defense and Trenton.
"Our defense stepped up really great," Jack said. "We handed it to their offense and also Dewar, he stepped up. Preston, our quarterback got hurt and Dewar has been stepping up doing his thing and I'm really proud of him."
With another successful game, Jesuit increased their winning streak to four. With this momentum, the Marauders hope to bring it with them against their next opponents Cosumnes Oaks High School. Nonetheless, Jackson points out that there's more room for development and preparation for this matchup.
"There's always room for improvement of course," Jackson said. "We just keep working on from this. Working on what we got right here. Keep moving on and making progress, that's all we can ask for."
Looking to continue their win streak, the Marauders will be playing at Cosumnes Oaks on Friday, Oct.1 at 7 p.m.