Jesuit Football's heads are still up, season comes to a close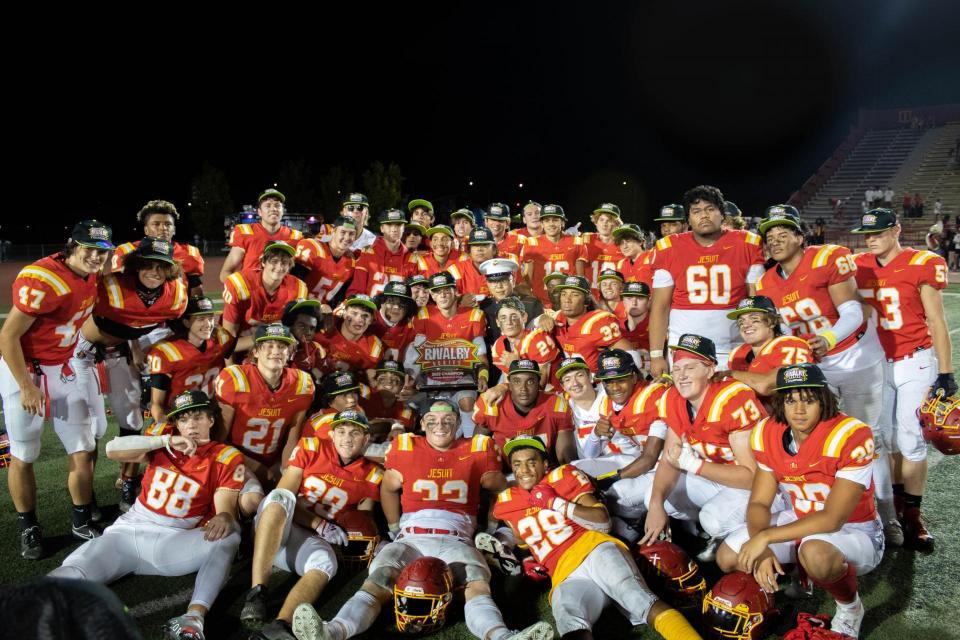 The Jesuit High School Sacramento Marauders' 2022 football season was very successful. The Marauders finished with 9 wins and 3 losses on the season, with a point differential of 370-185.
The team's playoff run, however, was unfortunately cut short, following a 34-13 loss against Rocklin High School on Nov. 11 in the 2022 CIF Sac-Joaquin Section Football Playoffs.
Recalling the final playoff game against RHS, Manager Carson Campbell '23 was very somber to see Jesuit lose.
"It was depressing to say the least," Carson said. "We were just so close, and we just blew it basically. It was so depressing."
Wide receiver Trenton Dewar '23 ended the season with 16 receptions, an impressive 272 yards, and five touchdowns. He thought the team played quite well even with some mishaps along the way.
"I think we did pretty well; we started off strong, some little bumps in the road, but it's part of the journey, and I mean, I think we did pretty well," Trenton said.
Running back Anthony Seibles '23, who finished off the season with 571 yards rushing on 69 carries, a team-leading 14 total touchdowns, 40 tackles on defense, and even 2 tackles for loss, credits his success to training with the coaching staff and playing the game with friends.
"Personally I felt like I had a good season because of my offseason training conditioning with Coach Jay, and playing with my friend made me want to play even better," Anthony said.
Coach Jonathan Issac is sad to see some of the seniors move onto college, and wishes them the best of luck on the rest of their journey in life.
"I'm gonna miss those guys," Coach Issac said. "I've known those guys for a long time, a lot of them I've known since they were 10-years-old, nine-years-old, and I'm gonna miss them as they go to the next chapter of their journey. I wish them good luck in college or whatever vocation they are doing in their lives, for sure, and we're going to do our best to honor their legacy."
Looking towards the future, Coach Issac hopes the juniors follow in the example set by the seniors this year.
"Hopefully they can cultivate that example that the seniors have rolled out for them," Issac said. "We did have a good group of juniors that were playing for us, playing meaningful minutes, so hopefully they can roll that into a good season next year."
Carson looks with optimism at the future of Jesuit football and hopes that players from the lower classes will become leaders of the team.
"The future of Jesuit football is bright," Carson said. "I think we have some potential in some juniors and sophomores that can step up and be leaders. It's just a matter of time, not a matter of if."