From Jesuit formation to Jesuit High School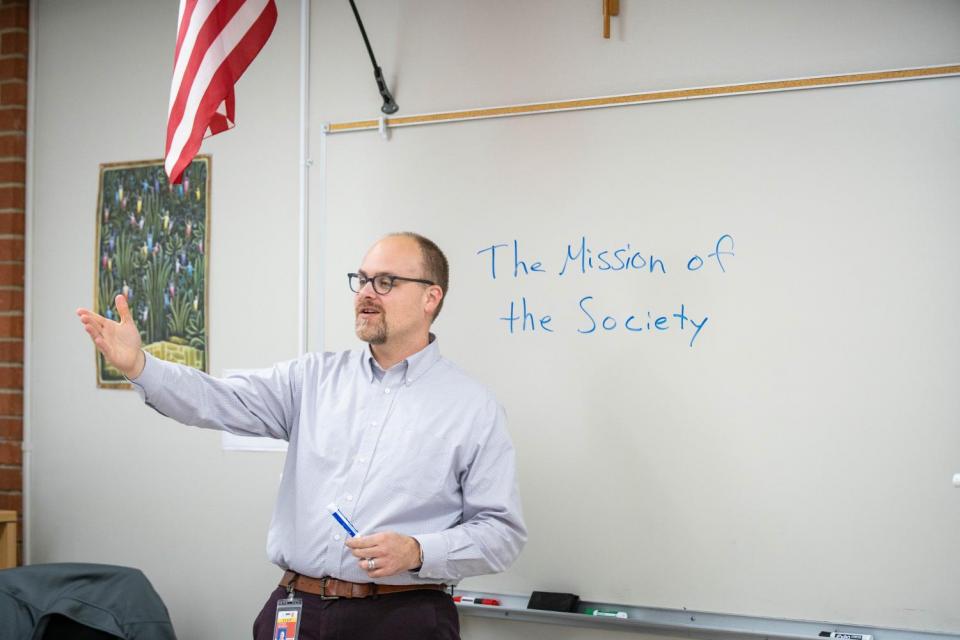 Meet one of Jesuit High School's newest teachers: Mr. Patrick Brabec.
Mr. Brabec joined Jesuit's Theology department this summer, but he joined a department and community that he already knew well. His wife Ms. Sara Brabec is the director of Christian Service and has worked at Jesuit since the fall of 2015.
"I have pretty high expectations of really smart and skilled teachers," said Mr. Brabec."People who are passionate about social justice and St. Ignatian spirituality. I also had expectations of students who are good at sports, good at drama, good at schoolwork and bring passion to things."
Mr. Brabec's interest in Theology first emerged as early as his own Kairos retreat in high school.
"The first time that I ever believed or recognized that I experienced God was on my own high school Kairos retreat," Mr. Brabec said. "That Kairos retreat and that experience of God's unconditional love and forgiveness of me and everyone that was on that retreat really just kind of changed everything about my life and what I cared about."
This encounter with God led Mr. Brabec to become a seminarian in the Society of Jesus, a journey that he pursued for 10 years.
"My ten years as a Jesuit were ten of the most amazing years of my life," Mr. Brabec said."I have grown so much as a person and I wouldn't be the man I am without those ten years. I highly recommend it for anyone who is thinking about it."
After 10 years with the Jesuits, Mr. Brabec realized he was being called in a different direction: to a life of marriage and family.
"I did leave the Jesuits and eventually got married and have a kid and it has kind of developed that new aspect of my life that I kind of felt what God really wanted me to experience and find," Mr. Brabec said.
Even though Mr. Brabec is adjusting to the environment at Jesuit High School, Theology Department Chair Ms. Crew-Renzo has high hopes for him.
"Mr. Brabec is an excellent teacher, and he has a ton of experience in Ignatian education," Ms. Crew-Renzo said. "He was in the Jesuits for ten years doing formation so I knew having him here would be really good for the Ignatian identity of the school."
Aidan Goveas '20 is eager to learn more from Mr. Brabec.
"I feel like he has really good knowledge based on his experience," Aidan said. "What he has said so far in class has seemed very knowledgeable, so I kind of just want to learn [more]."
With a strong connection in faith and love of teaching, Mr. Brabec is here at Jesuit to share his same devotion with his students and faculty.
Davis Vann '20