Jesuit looks to defeat longtime rival Christian Brothers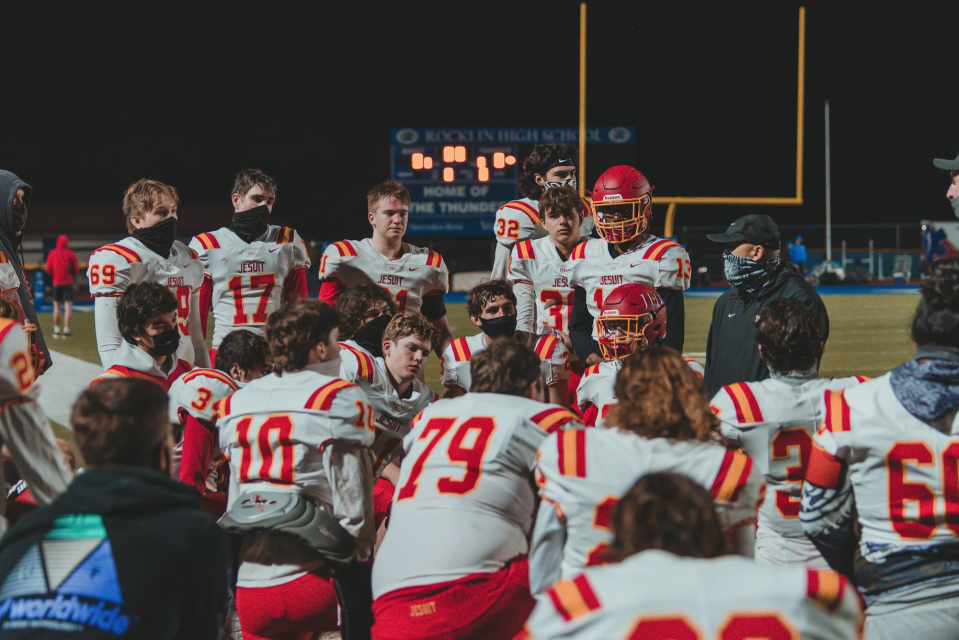 While this year's game between the Jesuit High School Marauders and the Christian Brothers High School Falcons was supposed to be commemorated as the 50th annual matchup, the COVID-19 pandemic has brought about changes to how the game will take place.
Christian Brothers will host the game, but because only players' immediate family will be allowed in the stands, the celebration for the 50th rivalry game will take place next season when fans are hopefully allowed to watch in person.
Ranked No. 16 on the Sac Bee's Top 25 list, Christian Brothers is coming off a 42-0 win over Sacramento High School. Jesuit is slotted right behind their old rival in the No. 17 spot after a tough 43-20 loss to St. Mary's High School last week.
Given Jesuit's struggles against St. Mary's, wide receiver and defensive back Ryland Dewar '21 expects his team to learn from the experience when playing against the Falcons.
"I believe our team needs their minds in the right place and come together as one to defeat any team out there including the falcons," Ryland said. "We need to minimize our own mistakes and continue to make big plays."
Lineman Peyton McDonald '21 echoes his teammate's sentiments about correcting their mistakes while specifically pointing out what to work on.
"We just got to work in terms of completing our passes against Christian Brothers considering that a lot of them were incomplete against St. Mary's," Peyton said.
With his team having specific areas of improvement in mind, Offensive and Defensive Line Coach Sean Morris believes the Marauders will do well against the Falcons after a bit of practice.
"My expectations for the game is to see improvement from last week," Coach Morris said. "There were a lot of mistakes made last weekend and we should have a good week of practice to correct those mistakes."
Although the game will look much different than a typical Holy Bowl, the Jesuit Marauders will still be battling just as hard to defeat their biggest rival as they travel to Christian Brothers to play the Falcons tonight at 7:00 pm.