Jesuit looks to take on Elk Grove for Delta League championship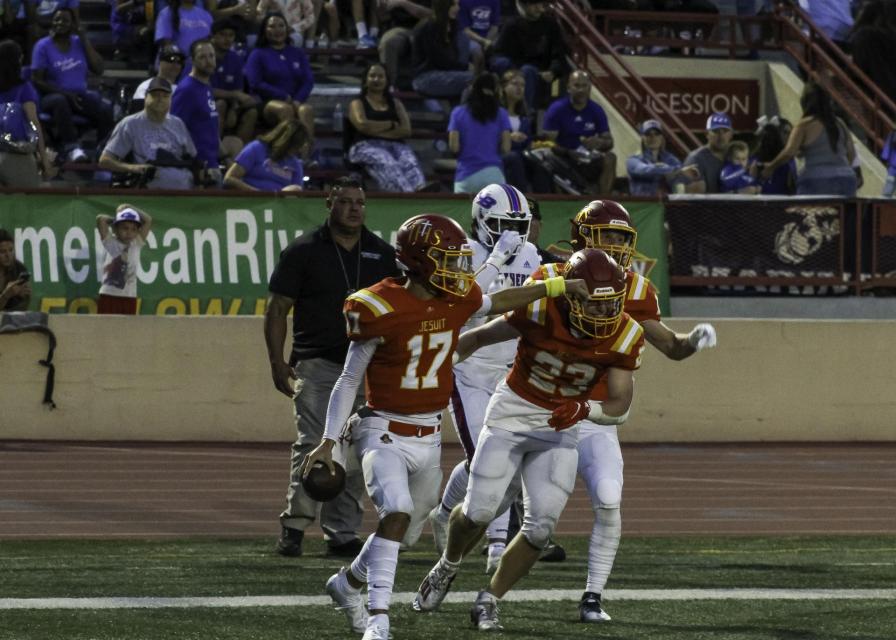 On Friday Oct. 14, the Jesuit High School Sacramento football team defeated the Cosumnes Oaks High School Wolfpack 28-7. The game was a great show of strength, and a great boon for confidence as Jesuit looks towards Friday, Oct. 21, when they take on Elk Grove High School in the Delta League Championship.
Assistant Coach Jonathan Issac thought the team played well and that a special teams touchdown at the beginning of the game gave Jesuit the boost of confidence and determination they needed to win.
"We played […] the game, I think pretty well," Coach Issac said. "We started off with a special teams touchdown; Caleb Dixon took it to the house on the first kickoff. Then he scored another [touchdown] on our next offensive series that was another 60-plus yards. So he gave us a good spark to start the game off right."
Running back Tatum Pappas '23 also thought the team came ready to play even after a week of practice that did not meet the coaches expectations.
"I thought it went really well for us," Tatum said. "We kind of had a rough practice week, but come game time I think we were ready for them."
Wide receiver Trenton Dewar '23, thought the team played very well overall, but he also believes that going into the next game the team needs to execute above all else.
"[EGHS is] very good, and we need to up our effort," said Trenton. "And we have to execute if we want to win."
The Delta League championship is on the line this Friday. Coach Isaac believes the game will bring the best out of the Jesuit varsity team because EGHS is a very skilled opponent that will require Jesuit to perform well to win.
"It's good because it sets up a championship match near the end of the season," Coach Isaac said. "We're undefeated in league, [EGHS is] undefeated in league. It's going to be a good test. They're a good team, we're an improving team, so it's going to be great for us to get a look against a quality opponent."
On Oct. 21 you can watch Jesuit take on EGHS for the Delta League championship. The game is being held at Elk Grove High School and will start at 7:15 p.m.