Jesuit loses at the Golden 1 Center, prepares for NorCals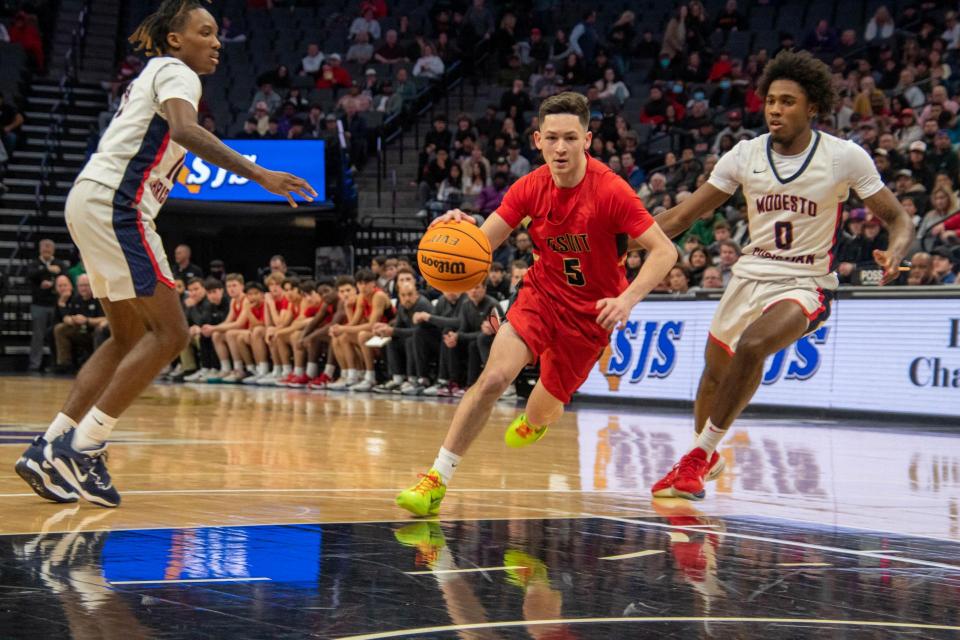 On Saturday, Feb. 25, the Jesuit High School Sacramento varsity basketball team suited up for the Sac-Joaquin Section Division 1 Championship Game against Modesto Christian High School. Playing in the Golden One Center, the Marauders trailed the entire game ultimately losing 79-53, snapping their 13 game win streak.
Guard Kevin Haupt '24 is confident in Jesuit's ability to bounce back with hard work and good preparation after such a tough loss.
"I think we just got out to a slow start and they had all the momentum and they used it against us," Kevin said. "But I think we can regroup and get ready for NorCals."
Head Coach Timothy Kelly believes the team has shown resilience and tenacity throughout this season and section playoffs, and he thinks the home crowd has helped their confidence.
"I think we've been great, competing really hard," Coach Kelly said. "Our guys stepped up in some big moments and different guys stepped up. It's been great to be at home and be in front of big crowds with the Galley Crew showing up, and a lot of support. It's been a fun run through the playoffs."
Looking forward to the CIF State Championship tournament, the Marauders are slated to play University High School in round one at home on Tuesday, Feb. 28 at 7 p.m.
Coach Kelly thinks a key to getting the win is physical toughness, which was less evident in the game against MCHS.
"Hopefully it teaches us to be tougher," Coach Kelly said. "I didn't think we played with a lot of physicality against Modesto Christian, and you have to [be physical] to win big playoff games."
With these lessons learned Jesuit has a fresh start as they enter the state playoffs. So make sure you show up and show out at 7 p.m. to keep the playoff run alive.