Jesuit Rovotics Team works hard, takes international win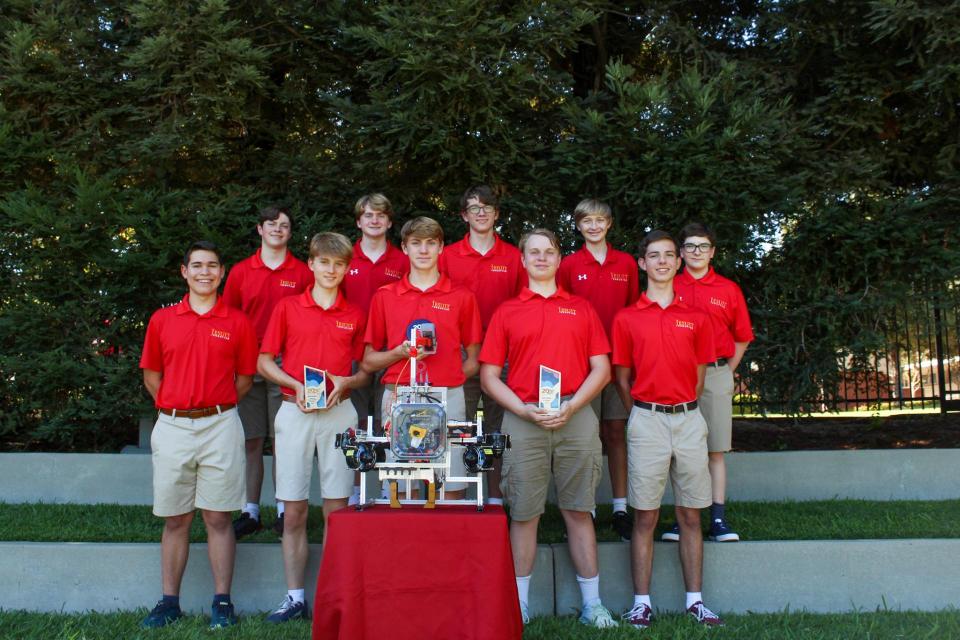 While many students were enjoying the start of summer vacation, the Jesuit High School, Sacramento Rovotics team (Jesuit's Robotics team company) defeated an international group of high schools and universities at the Marine Advanced Technology Education (MATE) International Underwater Robotics Competition in Long Beach, California. The team's thorough preparations last year helped them secure their victory and continue the hard work for this year's competition.

Along with receiving the first place international title out of 20 teams, the Jesuit Rovotics team also won a trophy, 500 dollars, four state of the art thrusters, and a one-year membership at the Marine Technology Society (MTS).
The competition entailed creating a Remotely Operated Vehicle (ROV) that could complete specific jobs underwater. Software Lead James Randall '24 describes what kind of missions the robot had to carry out.
"[Every year] MATE sends out a mission spec., which gives us some tasks that we need to complete," James said. "And we have the whole year to work on those tasks. [We] get two chances to complete everything that they give [us]. So, for example, one of the tasks this year was moving some dead fish around and we had to measure the lengths of [those] dead fish. [Additionally,] we had to patch up some seagrass and we had to fix some nets that were busted […] we made tools that could do all these things."
During the tournament, the team performed exceptionally well during their presentation and especially in the pool. Software Member Alexandre Bertran '24 explains how they were able to create a huge gap in points between themselves and the other teams.
"We nailed the product demo, which is when we go underwater and perform all the tasks," Alex said. "I think that's where we got the majority of our 100 point lead. For the poster and technical report, which are both for marketing, along with the presentation, everything went pretty well. We didn't get first place in all of those but we were pretty close."
After performing well in the mission run and the question and answer session, the team was fairly confident that they were able to bring home the trophy.
Now, the robotics team is starting to prepare for the upcoming season after their second international win in a row. They are reorganizing the leadership positions and preparing for new members to join.
"Right now, we are currently having leadership meetings," Alex said. "There are four leads on the team. We're starting to have those meetings to prepare what we want to do next year so we have an idea and can make a roadmap of what each sub-team is going to do."
There is a lot more in store for the team this year. With many projects and ambitions waiting for them, James sees a successful season ahead.
"We have so many things that we want to do," James said. "I have all kinds of fancy things and new software I want to implement. And we have a great team this year, so I'm very excited. I think it's going to turn out super well."
The Jesuit Rovotics team achieved victory through their hard work and persistence. Although there were some obstacles, they didn't hold them back from winning internationals. They are hopeful that this upcoming season will bring them a third international victory in a row.
The robotics team encourages freshmen and sophomores interested in joining the team to attend the informational meeting on Monday, Sept. 19, 2022 where they can, hopefully, join a winning legacy.