Jesuit showcases football skills with win against Pleasant Grove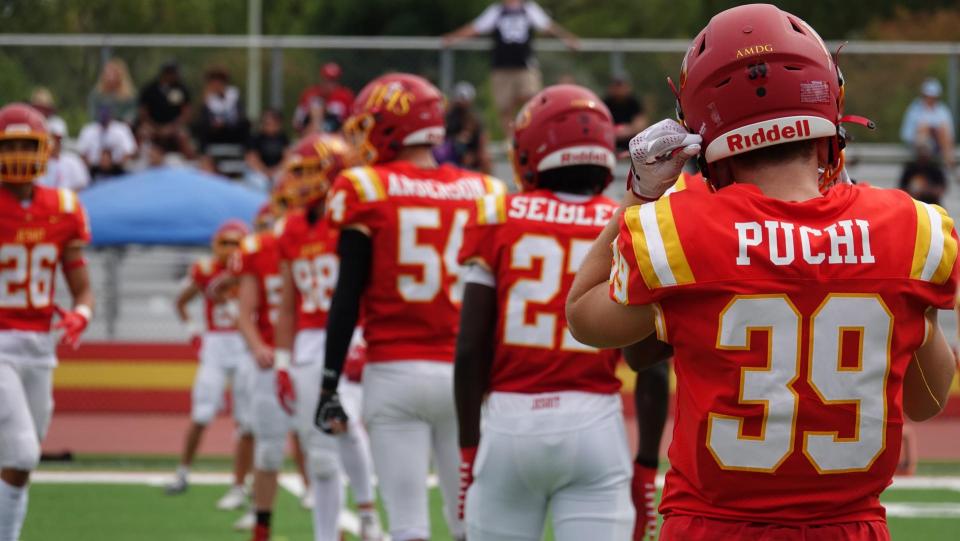 On Sept. 23, Jesuit High School Sacramento's varsity football team won 49-0 in an away game against Pleasant Grove High School. The win was a great showcase of skill for many players on Jesuit's team.
Assistant Coach Jonathan Issac saw how the team's preparation and brotherhood brought them together, and allowed for them to get the dominant win against Pleasant Grove.
"I liked how fired up all our players were for each other," Coach Issac said. "To play, to be successful, all of that brotherhood of Jesuit really came through on Friday night."
Standout out player of the game, wide receiver Trenton Dewar '23 also sees how well Jesuit played together, but still sees room for progress.
"The team came together better than they did before," Trenton said. "[There's] a lot more to come, but I feel like we did pretty well."
Coach Issac notes how important Trenton was to the game, and how it was nice to see the players step up and progress.
"Trenton Dewar really showed what being a man for others was leadership-wise," Coach Isaac said. "And then delivering on the field, I was happy to see our sophomore Alan Cordano ['25] get a little bit of action in there. And our running backs, they were phenomenal. They just ball out no matter what's going on."
Running back Jagger Shaddix '23 is also happy that so many people tried to play, but when it comes to his play, he feels like he could have played better.
"I feel like I played okay; I could've played better," Jagger said. "As usual, the team did really [well, and] we got everybody in, which was the end goal."
Jagger believes that this week's game will be a test for the team overall, and will be their toughest regular season game.
"Just staying disciplined and not taking them lightly, because this is the closest game we are going to have to a playoff game," Jagger said. "They are the best team we play this year, so we have a challenge. We need to step it up and be prepared."
The 5-0 Jesuit Marauders will face the 1-3 Clayton Valley Ugly Eagles in a home game this Saturday at 2 p.m.