Jesuit Spring Orchestra Concert: exciting and rewarding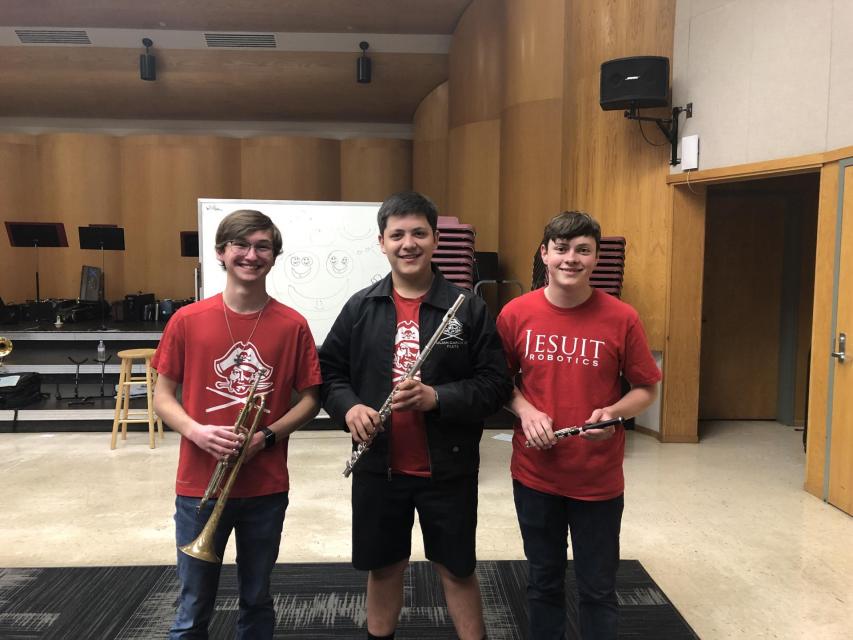 On Thursday, March 31, Jesuit High School Sacramento held their exciting annual Spring Orchestra Concert. Hosted by Orchestra Teacher Mr. Paolo Reyes, this production highlighted student performances from the Beginner Strings, String Orchestra, and Symphony Orchestra groups.

The beginning of the production focused on the Beginner Strings performances, a group of new students with a desire to learn a string instrument. They played "Dragon Hunter" and "Sahara Crossing," songs composed by Richard Meyer.
Mr. Reyes describes his experience with teaching orchestra to the Beginner Strings students, and how their hard work really pays off in the end.
"It's always a pleasant surprise when I give them a challenge and they can actually meet that challenge," Mr. Reyes said. "It's tough a lot of the time, but hearing them in the concert last week, I was shocked in a great way. Knowing that just opens up a greater world of what kind of music they can do."
The next group that performed was the String Orchestra, comprised of students from multiple grade levels. The cast played five songs, some being "Waltz No. 2" by Dmitri Shostakovich Arp. Paul Lavender and "Larghetto From Serenade for Strings" by Edward Elgar.
Quinn Austin '23, a violinist for both the String Orchestra and Symphony Orchestra, explains his favorite part of participating in such a collaborative event at Jesuit.
"It would have to be getting to know everyone in the orchestra," Quinn said. "I got to know so many people that I would have never interacted with if I didn't take orchestra. I'm very much glad to also have Mr. Reyes as a teacher."
Last to perform were students from both Jesuit and St. Francis High School in the Symphony Orchestra. Their performances included "Danse Macabre" by Camille Saint-Saëns Arp. Sharon Mack, "Lord of the Rings: The Fellowship of the Ring Suite" by Howard Shore Arp. J.C. Whitney, and lastly "Danzon No. 2" by Arturo Marquez.
Violin player for the Symphony Orchestra, Robert Lee '22, explains the unique aspects and instruments used in his favorite song that he performed at the production.
"My favorite song was 'Danse Macabre' by Camille Saint-Saëns," Robert said. "Saint-Saëns uses interesting techniques such as the usage of dissonance (the tritone) to tell a story about the skeletons rising from their graves and dancing to the music of a violin. For example, the xylophone represents the sound of the bones."
Overall, the Spring Orchestra Concert was very rewarding and pleasing for everyone, especially Mr. Reyes and the students who performed. If you enjoy orchestra performances, make sure to stay tuned for their next performance this fall.