Jesuit technology team and buildings and grounds crews played a major role in stopping the floods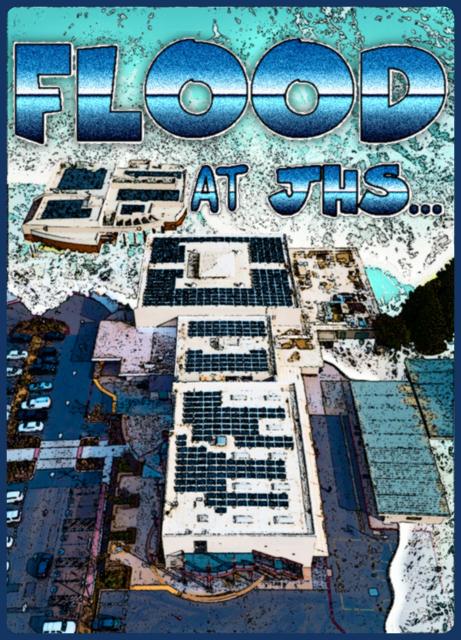 An intense storm brought power outages, flooding, and the cancellation of classes on Monday, Oct. 25 at Jesuit High School Sacramento. Through a lot of hard work and dedication from Jesuit's Technology Office and our Buildings and Ground crews, the school was able to invite students back to campus the next day.
Many staff members, one being Plant Manager Paul Speers, played a major role in stopping the floods and finding a way to turn the power back on. He explains what happened when the issue started and what they did to fix it.
"Sunday I got a call from George Wagner, our Director of Technology, and he reported that we lost power in [Brebeuf Hall] around 8:30 p.m.," Mr. Speers said. "We had lost power at the switchgear, near Lalemant [Hall]. The main breaker had popped and half the campus had no power. We were here until 3 a.m. in the morning [working on the problems]. We got the generator and we re-established power on Monday afternoon."
During the same time, the power outage affected the work the crew of the fall play was doing in the Black Box Theater.
"We were actually in the middle of rehearsal here and at about 7:30 a.m. the power had a surge, and that's when the network at school went down," said Father Perry Petrich S.J. "Because the network went down [and] all this equipment in the Black Box runs on the school's network, so we couldn't do anything. We gathered as a cast in the Harris Center and just sat around and worked on the show there, pretending that all of this stuff was working."
This sudden crisis affected many who work and live on campus. Thankfully, everyone was eager to help, and Mr. Speers appreciated everyone's willingness to jump in on such short notice.
"It's special being a part of that kind of community: people helping you out that don't need to," Mr. Speers said. "They saw a need and they just jumped right down and helped. It was really fantastic. I just have the highest regard for these people, and that's how it is here. Just the sense of community, sense of family, that's what's special."
For Principal Dr. Michael Wood '99, the conflict created by the storm just illustrates how Jesuit's faculty and staff are able to work together and why they are able to overcome any obstacle that presents itself on campus.
"If we work together, if we're calm, and we think about students first, we can really solve any crisis," Dr. Wood said. "This was just one more example of a really good group of people solving a problem quickly, efficiently, gracefully, for the purposes of our students."
As Jesuit's response to COVID-19, smoke days, and floods demonstrates, this community continues to work as hard as possible to get through any and all issues to keep the Jesuit community together. Many thanks to the hardworking staff, faculty, and administration of Jesuit High School.