Jesuit tradition brings students and their mothers closer together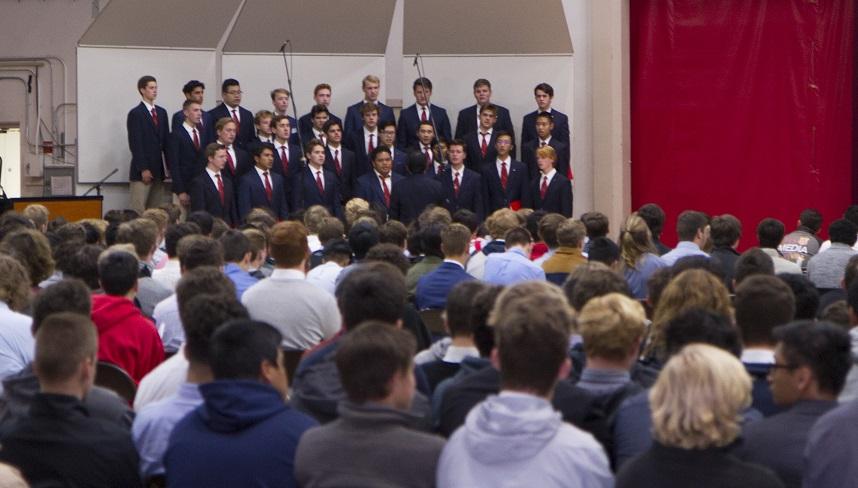 The morning of Oct. 31, Jesuit High School Sacramento hosted their annual Mother-Son Mass in the Father Barry Gymnasium.
According to Father Aaron Engebretson S.J. the mass was primarily about bringing mothers and sons together through prayer.
"Your parents are such an important part of your own faith life, and it's important that we celebrate that," Fr. Engebretson said. "There's a great saying that a sacrament is something that is always and everywhere true, must be noticed, appreciated, and celebrated somewhere at sometime. So to celebrate the sacramentality of the relationship of mother and son, this is a good opportunity to notice it, appreciate it, and celebrate it."
Jesuit's recognition of the bond between mothers and their sons is nothing new. The Director of Campus Ministry, Mr. Paul LeBoeuf, notes that this celebratory Mass has been an important tradition at Jesuit that has united mothers and sons for many years.
"It's about 30 years old, or maybe a little more," Mr. LeBoeuf said. "It started as an event where we would go off-campus. About 10-15 years ago we brought it back to campus. Bringing it back here made it more real to who we are."
Mr. LeBoeuf adds that throughout the many years of this event, the goal has always been the same: giving students a chance to pray and bond with their mothers.
"In our business of our lives, we don't often take time to just be with a parent," Mr. LeBoeuf said. "Out of love, out of care, out of just being with a parent."
The Administrative Assistant for the Offices of Service & Justice and Campus Ministry Ms. Jessica Fuentes, believes that students attended because it allowed for them to share quality time with their families.
"I think students and their mothers or grandmothers or step-mothers [attended] because it's a wonderful way to share in what Jesuit has to offer," Ms. Fuentes said. "Not just the student but the families as well. And it's a great tradition."
The Mother Son Mass is a long-standing tradition at Jesuit, coming back year after year to bring mothers and sons together. Fathers interested in spending time in prayer with their sons can look forward to the Father-Son Mass on Feb. 6, 2022.