Jesuit works to give students opportunities to build community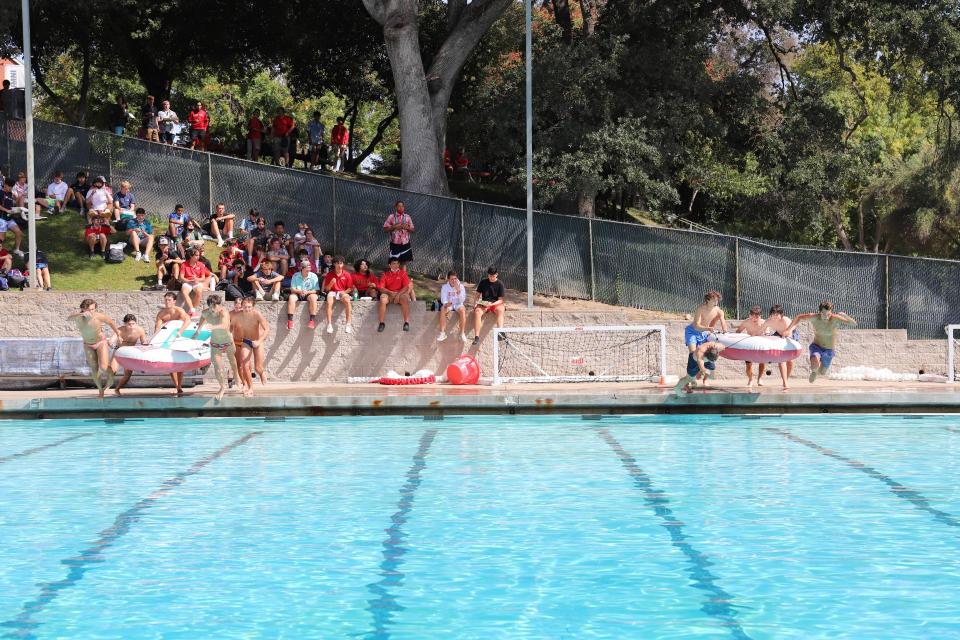 After being unable to fully come back to campus during the 2019-2020 school year due to COVID-19, students at Jesuit High School Sacramento returned this year to fully in-person activities with an eager desire to come together and grow the relationships they have formed in the Jesuit community.
As students adjust to in-person learning and activities this school year, one of the most important aspects Jesuit has been focusing on is building community and coming together to form new relationships.
"Instead of saying 'No we can't do it because it's unsafe', we said 'How can we figure out how to make this thing happen in the safest possible way?'" said Principal Dr. Michael Wood '99. "That's been our mentality from the start… let's just find ways to reimagine, recreate, re-envision something so that we can have it as safely as possible."
With this focus on strengthening the community, Jesuit faculty have already planned and carried out many exciting events that encourage students to communicate with each other and prosper in this time of growth.
"Student activities does a student barbecue every year, and that happened back in August," said Student Activities Director Mr. Peter Ferrari. "It's normally just for freshmen, but this year we doubled it to make it for sophomores as well because they didn't have theirs last year. That's kind of a simple thing right, but it was a really fun day and people were playing games and Spikeball and eating. It was just a lot of fun."
Class pool parties, 3v3 basketball tournaments, Frosh-Soph open dances, Spirit Week, and Homecoming are only a few of the additional events Student Council has worked extremely hard on in order to give students an authentic experience of the Jesuit Brotherhood that they had before COVID-19.
With the transition into using the new daily bell schedule, one of the most obvious changes students have noticed is the Community period every Tuesday and Thursday. This new addition to the schedule has given students more time to build their community and strengthen relationships with each other.
"We get this time with community period to have time carved out in the school day to nurture other parts of our lives other than just our academic lives," said Assistant Principal for Instruction and Student Life Dr. Fadia Desmond. "We also have the opportunity to join a club, join an academic team, go to Mass, and play outdoor volleyball. Whatever your thing is in your life that needs growth and nurturing, we have the advantage of getting to do that all together in person."
Even though Jesuit students have only been back for a little more than a month, Jesuit's faculty have seen a major positive change in the students' energy and attitudes towards being in-person together again.
"I would frame it as witnessing a real intense experience of gratitude from the students, that they're grateful to be back and that shows how they treat each other and how they greet the faculty and staff," Dr. Wood said. "It's an incredibly positive experience."
In a similar manner, Dr. Desmond admirably described how the students are, "so friendly and gracious to us, and I would want them to know how much it means to us that they're just so nice and kind to us, and make us happy to come to work every day."
All students were robbed of some part of the Jesuit experience when COVID-19 hit, whether it was the Freshman Overnight, prom for seniors, or sports activities for all grade levels; however, the community persevered and are now coming back stronger than before. Jesuit continues to grow after quarantine and bring new, exciting events back to campus and make the most out of every day to strengthen the community.