Jesuit's Varsity Football Team sees brotherhood as the path to greatness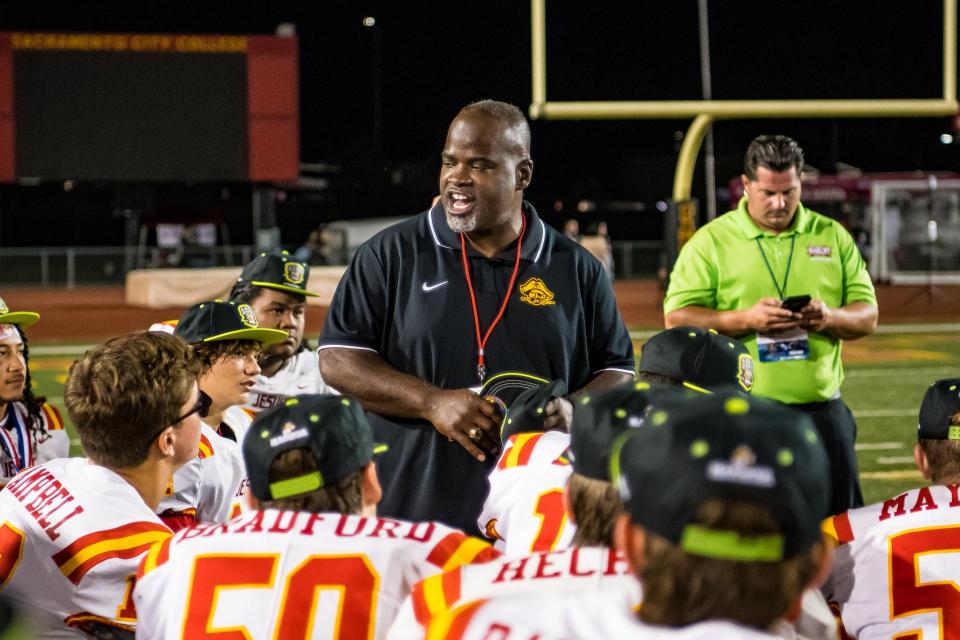 In the 2021-2022 season, the Jesuit High School, Sacramento Varsity Football Team had six wins and zero losses in the Delta League, including a 44-0 victory versus Christian Brothers High School in the Holy Bowl. Including non-league games, the team ended the season with a 10-2 record. They lost only to Folsom High School, last year's Northern California football champions. This year's varsity team's first game will be against Bishop Manogue High School on Friday, Aug. 26, in Reno, Nevada.
Head Varsity Football Coach Marlon Blanton believes that in order for the team to achieve their goals this season, they must continue to grow with each other.
"Just trying to get on board with building better relationships with each other, so they can play harder for one another," Coach Blanton said. "So we are still working on that phase of the game, being better people to each other, and if we can get that down, I think we are going to be really good."
Trenton Dewar '23, the team's starting quarterback, echoing Coach Blanton's sentiments, links team success to togetherness.
"I have full faith that our team can beat Bishop Monogue if we play like Marauders and play as one," Trenton said.
Trenton also looks to improve his game by focusing on adding more communication.
"The biggest thing I'm trying to improve this year is to communicate with each other in an effective way," Trenton said.
Cornerback and Wide Receiver Cormac O'Flaherty '23 looks to improve by being more active on all positions of the field.
"I am looking to contribute in any way that I can, from defense to offense to even special teams," Cormac said.
Beside singular player improvement, Coach Blanton believes that the team can build on what they already have without making changes.
"We are going to try and improve on the foundation of what we already do," Coach Blanton said. "I believe if we hone those things that we are already good at, we will get better."
With the focus on growth and player improvement, it is looking like the Jesuit Marauders are going to have a big season this year.
"I think our team will be pretty good; we have the players once again to have a chance to win the section title," Cormac said.