Matt Strangio's legacy to run past his time at Jesuit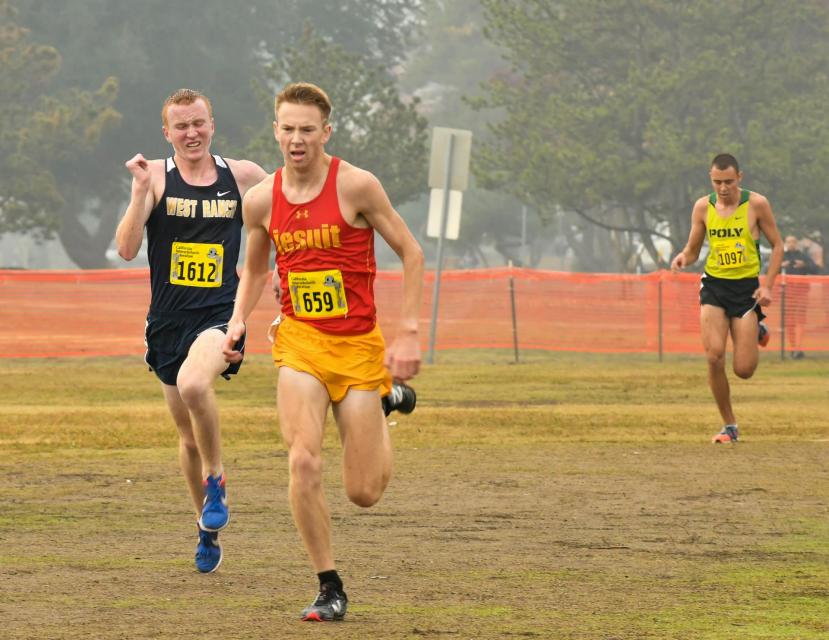 With record-breaking runs at the local and state level, Matt Strangio '20 is the latest in a long list of great runners to graduate from Jesuit High School in Sacramento.
Matt's list of athletic achievements is extensive. During his four years at Jesuit he has won championships in the 1,600 and 3,200-meter races, is a two-time Division I Cross Country State Champion, competed at the National Cross Country Championships since his sophomore year most recently placing fourth, is a three-time Nike All-American runner, and recently broke a school record by unofficially running 1,600 meters with a time of 4 minutes, 3.57 seconds in a time trial.
The official Jesuit record is held by Jesuit running great Michael Stember '96, who ran 1,600 meters in 4 minutes, 4 seconds at the 1995 California State Meet.
While Matt makes running fast look easy, Cross Country Assistant Coach Nick Lai assures that Matt had to work for his success.
"The main factors that led to Matt's success are the same factors that have made him one of Jesuit's best distance runners of all time," Coach Lai said. "He has an excellent work ethic, he is dedicated to the sport and he is a competitor. He knows how to race and he is unafraid to push his limits."
Of course, Matt's life doesn't completely revolve around running. In fact, before his freshman year, Matt considered running track secondary to soccer, which he considered to be more of a priority until he fell in love with Jesuit's cross country program.
Talon Krieger '20, a long time friend and teammate, also wanted to stress that Matt contributed more to Jesuit athletics than just his athletic talent.
"Matt is a great teammate as well as a great friend and is always encouraging others to push themselves," Talon said. "He is also a great leader and is there for the guys, helping them on and off the track. It is truly special to have been a teammate and a close friend of his."
After graduating from Jesuit at the end of the school year, Matt will continue his running career at the University of Portland. Matt cites his reasons for attending as well as what he hopes to accomplish there.
"I really like the city and the team," Matt said. "They expressed interest and confidence in me very early. Portland has become a hub for running and I feel like the program can take my running to the level that I want to be at. I want to help the team win an NCAA cross country title and I want to win multiple individual titles. I hope that by the end of my time at Portland I'm in a position to get a pro contract."
Matt undoubtedly has a bright future at Portland and it wouldn't be surprising to see the cross country program there reach even greater heights. Everyone in the Jesuit community should keep their eye out for a fellow Marauder dominating college cross country in the years to come.
Matthew Marsh '20, Sports Editor