Mr. Ferrari rolls into Jesuit High School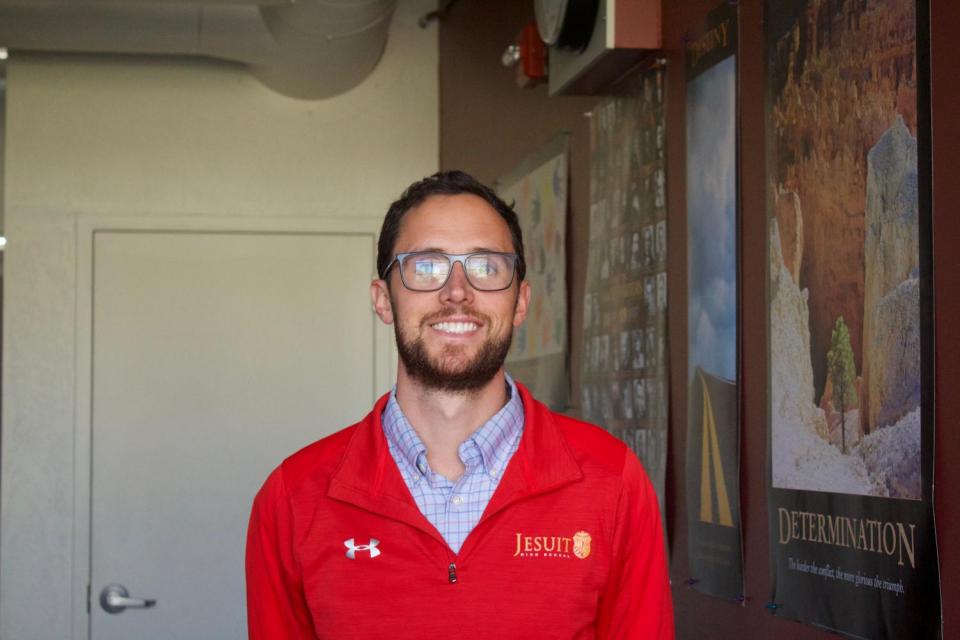 With a name as sleek as he is, Mr. Peter Ferrari is the new teacher cruising into the English department at Jesuit High School this year.
After teaching for three years in Las Vegas in the Teach For America program, Mr. Ferrari moved to San Jose to teach at Bellarmine College Preparatory in 2016. In his three years there, Mr. Ferrari became friends with Dean LaRoddric Theodule, who first introduced him to Jesuit, Sacramento.
"I have heard many great things about this community, especially from Dean Theodule," Mr. Ferrari said. "He was a friend of mine from when we worked together at Bellarmine."
Although he is new to Jesuit, Mr. Ferrari's six years of teaching have given him plenty of experience, and his students have taught him just as much as he has taught them. He's learned that respect goes both ways when creating his ideal classroom environment.
"I think that kindness, respect, and honesty are probably three things that are really important in my classroom relationship with my students, so I expect and hope that my students will show those three things," Mr. Ferrari said.
Mr. Ferrari's students admire the trust that he has shown in them. Jacob Helmuth '23 noted Mr. Ferrari's enthusiasm when it comes to his students learning the intricacies of English.
"There's a little bit more work when it comes to Mr. Ferrari, but it's because he wants us to really understand the material," Jacob said. "So, he does give us a bit more homework but it's because he's trying to get us to know the subject."
Hunter Hastings '21 appreciates Mr. Ferrari's unbiased approach when it comes to helping his students persevere; there isn't any lost cause in his class.
"He cares for each and every student and wants all of us to succeed," Hunter said.
In his short time on campus, Mr. Ferrari has already made his mark as a new teacher, cementing himself as a kind, respectful, and honest addition to the English department.
Harley Sherman '22 and Nick Venegas '22