Mr. Shahamiri begins new journey in San Francisco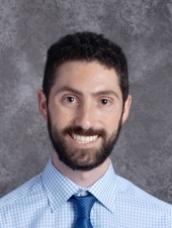 Many upperclassmen at Jesuit High School Sacramento remember Mr. Shahamiri for his engaging Theology 1 classes and his general approachability.

"Mr. Shaha," as the beloved former member of the Jesuit Theology department was affectionately known by his students, left his position as well as the city of Sacramento during the summer of 2021. Since then, Mr. Shaha has joined Sacred Heart Cathedral Preparatory in San Francisco, serving as an Instructor of Religious Studies.
The main pull for his move to San Francisco were family obligations, and Mr. Shaha stresses the importance of closeness of family both physically and verbally.
"The reason why I left was to be close to my mom who has a lot of health issues," Mr. Shaha said. "So for me to be able to be back here and support her has really helped her a lot. I think when we know when someone's there, mentally, it can really affect our mood and that can have an effect on our health."
Mr. Shaha has found the transition between different institutions to be straightforward regarding instruction and relations in the workplace. He teaches the same grade levels he taught at Jesuit, and has been warmly received by fellow staff members at SHC.
"I teach freshmen and sophomores, which are the grades that I taught at Jesuit, so it's been a pretty good transition," Mr. Shaha said. "I'm teaching scripture to freshmen and church history to sophomores. So it's a little bit different to Jesuit, the scriptures are your sophomore year. So right now, teaching my freshmen how to find Bible passages, and with my sophomores, it's kind of a survey of 2000 years of church history. Thankfully, everyone who I've gotten to know has been super friendly and very kind, hospitable, and super welcoming towards me over at SHC. I can't say I haven't met anyone who hasn't been friendly yet."
On the other hand, there are a few differences in the work environment that Mr. Shaha noticed between Jesuit and SHC, which may have resulted from the move to a major city.
"So right now where I work is in the heart of the city of San Francisco and it's actually right next to where the Tenderloin starts, which is a neighborhood, if you're familiar with the Tenderloin, where there's a lot of [single room occupancy] apartment buildings and and also a lot of people who are experiencing homelessness, so it's very different from my experience at Jesuit," Mr. Shaha said. "At SHC, we're in the city, and so the land isn't as spread out as it is at Jesuit, so it builds up. We've got a classroom building that is 6 floors tall and then you cross the street and you have another classroom building that is 3 floors tall, so that's been a little bit different."
Mr. Shaha has parts of his previous work and social life that he misses. The seasonal weather in Sacramento as well as the student community were some of the things he remembered fondly during his time at Jesuit.
"But man I miss that, I would go to Jesuit in the morning and there would be that chill and there would be a mist and the leaves would turn," Mr. Shaha said. "I also really miss the closeness of Sacramento, when I'd drive around or you go to different restaurants or stores, I'd always see people wearing Jesuit shirts or St. Francis shirts. It's a very close-knit community and I miss that a lot. I just want to let you know that I miss Jesuit a lot and I miss my former students."
Jesuit High School misses Mr. Shaha equally. Mr. Simon '13, who currently teaches Physics at Jesuit, recalls how Mr. Shaha helped him ease into the environment of the school as a teacher, and wishes to run into Mr. Shaha if chance allows.
"He and I entered Jesuit's faculty at the same time around four years ago, so I felt that he was a big part of welcoming me back to Jesuit as a teacher instead of a student," Mr. Simon said. "He was the kind of guy I would run into on campus every once in a while, and it always gave me something to smile about at the end of the day. I do have hopes of running into him again in the future, whenever I make it out to the Bay Area."
Settling into SHC has been a new exciting journey for Mr. Shaha, with both his teaching experience and open personality aiding him in settling within a new institution. While the campus of Jesuit and Mr. Shaha have shared memories that make this change bittersweet, his move was ultimately for an important reason: his family.