No longer business as usual as Jesuit bids farewell to two longtime staff members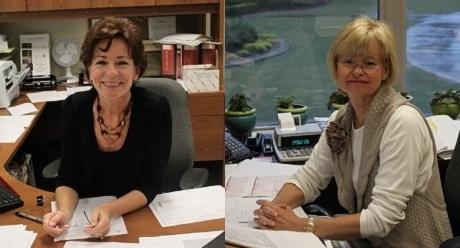 Acting behind the scenes in the business office of Jesuit High School Sacramento, Ms. Danise Skewis and Ms. Eileen Woodward help keep the school running — the former as a Risk Manager and Accounts Payable Coordinator, and the latter as a Business Office Assistant.
Both are involved in the financial side of Jesuit with Ms. Skewis handling the school's bills and Ms. Woodward in charge of the payroll, making sure the school's employees are paid on time.
Ms. Skewis and Ms.Woodward have spent a number of years at Jesuit, but the 2019-2020 school year will be their last. Chief Financial Officer Ms. Anne Long is grateful for the pair of longtime staff members.
"Ms. Woodward is fun to work with," Ms. Long said. "She loves Jesuit High School and wants only the best for all the employees. She is kind to all the students that she sees during the day and engages with them. Ms. Skewis has a wealth of knowledge about Jesuit High School. She is my go-to person to understand 'what really happened.'"
Although Ms. Woodward and Ms. Skewis are leaving, they won't forget the experiences they had at Jesuit, having thoroughly enjoyed their time here.
"Even at certain times when the workload would ramp up or there would be a special project that needed extra attention, I always felt lucky that I was given the chance to be in the 'company of people' who all worked so hard toward the goal of creating and sustaining the school," Ms. Skewis said.
"Being an alumni mom also, during faculty/staff masses or meetings, I always loved looking around the room at all my wonderful colleagues who were also Jesuit alum," Ms. Woodward said.
Jesuit President Rev. John McGarry, S.J., values Ms. Woodward and Ms. Skewis's skills that have kept Jesuit running for a very long time. He recalls their effect on Jesuit and how their demeanors have helped welcome everyone to Jesuit.
"Ms. Woodward sits at the front desk and always greets people with a smile — whether they be students, parents, other faculty or staff, [or] mail and package delivery people," Fr. McGarry said. "Ms. Skewis has been serving at J-High for a long time. I remember working with her when I was principal from 1998-2005. Ms. Skewis always has a friendly and calm demeanor and a good sense of humor."
While Ms. Woodward's and Ms. Skewis's impact on the Jesuit community is often out of sight for the student body, their talent and hard work have been essential in keeping Jesuit's doors open and lights on.