The North American Martyrs embody the spirit of being a "Man for Others"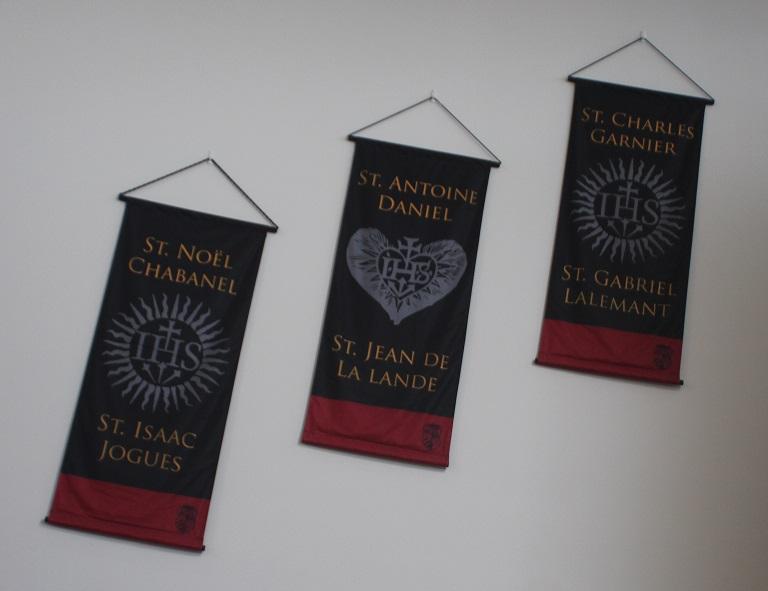 Oct. 19, marked the celebration of the Feast of the North American Martyrs. These patron saints of Jesuit High School Sacramento serve an important role in our community, to Jesuits, and to Catholics everywhere.
The group consists of eight saints: Saint René Goupil, Saint Isaac Jogues, Saint Jean de Lalande, Saint Antoine Daniel, Saint Jean de Brébeuf, Saint Noël Chabanel, Saint Charles Garnier, and Saint Gabriel Lalemant. These saints were all French Jesuits who died on a mission to North America in the 1600s.
Father Edwin B. Harris S.J. explained that these Martyrs made the ultimate sacrifice for their faith and mission.
"They felt they were fulfilling Jesus's mission to bring the Gospel to the whole world," Fr. Harris said. "They did it at great personal sacrifice to themselves. Once they went over to Canada, they did not necessarily expect to get back home ever again."
The saints came to America to help the indigenous tribe of the Huron people and to spread Jesus' teachings of kindness and love, and they gave up their lives to do so. Assistant Principal for Mission and Vision Ms. Annie Crew-Renzo explains that the sacrifice these saints made was martyrdom, which is the willingness to die for their Catholic faith.
"They were canonized for their bravery and commitment to bring the good news of God's love to the native peoples of the Americas," Ms. Crew-Renzo said. "They are credited with translating the Bible into the native language of the Huron people in order to share the story of Jesus with them."
Theology teacher Father Perry Petrich S.J. believes that the bravery of these saints and their lives are perfect models of determination and devotion to service for us to follow in light of the challenges caused by the pandemic.
"They embody the kind of spirit we need to not only survive, but thrive as we offer our service to the world in the midst of a pandemic," Fr. Petrich said.
Fr. Petrich thinks we should follow the spirit of the North American Martyrs' work and sacrifice, and attributes this spirit to their commitment to living out Jesuit's motto.
"Jogues and Brébeuf and their friends did it because they are men for others," Fr. Petrich said. "When people asked for help, these missionaries just went and did it."
Fr. Petrich and Ms. Crew-Renzo are not alone in their admiration for these saints. The Catholic Church holds the same view, which is why the North American Martyrs have a feast day dedicated to them.
According to Fr. Harris, the Feast of the North American Martyrs is a day to remember that these saints still support even after their earthly death.
"These are our patrons, these are people who act on our behalf to support the work that we do here," Fr. Harris said. "For the educators, it's supporting our work as teachers and staff. For students it's all the learning that you do."
Although the feast is now behind us, it is never too late to emulate the lives and actions of these men for others. It stands as a great reminder that the buildings on Jesuit's campus are named after these heroic saints in honor of their brave sacrifice and timeless legacy.