Reid Jones '23: leading by example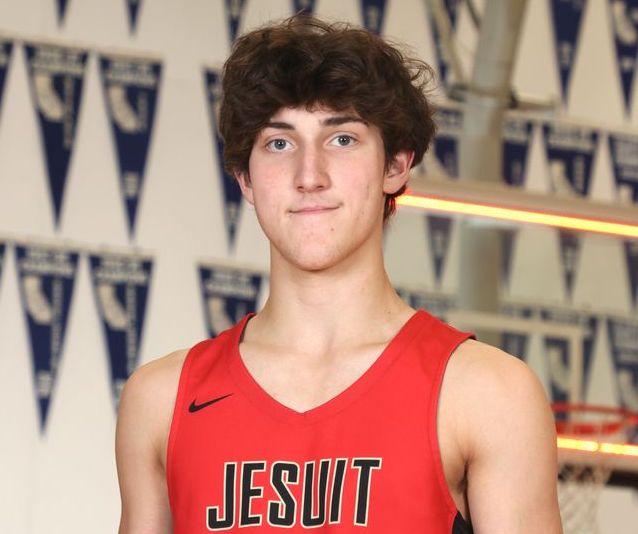 Reid Jones '23 has made his mark in the Jesuit High School Sacramento community as a leader on the basketball court and a persevering, optimistic classmate in the classroom.

As basketball team captain, Reid emphasizes the importance of accountability when leading players on the court.
"[As a captain of the basketball team,] I try to lead that as best as I can," Reid said. "Holding people accountable is hard and I try to focus on doing the work I preach in order to hold people accountable at the same level."
Head Coach Timothy Kelly praises Reid's outstanding performance on the court and Reid's ability to exemplify excellence for his teammates.
"Reid has been a constant leader in our program this season," Coach Kelly said. "He brings a competitiveness and maturity that helps settle our team in tense environments. Reid embodies what we want in our players. He is concerned about winning, he is humble, he works hard, and sets a great example for all players in the basketball program."
Owen Ubaldo '23 has been playing with Reid since freshman year and is grateful for the support that Reid has given to him, as well as the team.
"My relationship with Reid started from just being basketball teammates to a friend who I trust," Owen said. "He is a great friend and will be there for you if you need him"
In the summer of his sophomore year, Reid experienced a major injury–-he tore his Anterior Cruciate Ligament (ACL). Despite taking the year off, Reid stayed productive and was determined to work on himself to prepare for the next season.
"It was hard for me to stay in touch and keep a positive mindset, but I continued to try alternative things to help me when I was rehabbing," Reid said. "For example, I completely changed my shooting form and went to the gym, and strengthened my upper body."
Reid's model has helped lead and encourage the younger generation of Jesuit students, much like his role models did for him.
"When I was a freshman, there were a lot of seniors who kind of took me under their wing, and I tried to do the same for some freshmen this year," Reid said."I hope [the freshmen] can continue to do the same."
Reid encourages the generation he is leaving behind to stay positive and try as many new experiences as possible.
"Keep a positive attitude no matter what and try to find other things you like or find things that you can do to better yourself," Reid said. "Never be afraid to fail, and try everything because there are so many opportunities in life that you miss out on because you might be too afraid."
As Reid finishes up his last year at Jesuit, he hopes to leave an impact on the Jesuit community as a reliable figure to his peers.
"I would like my peers to remember me as someone kind and welcoming of others," Reid said. "During my time here, I tried to be someone anyone can come up to if they ever needed anything."