Run, Jesuit, Run!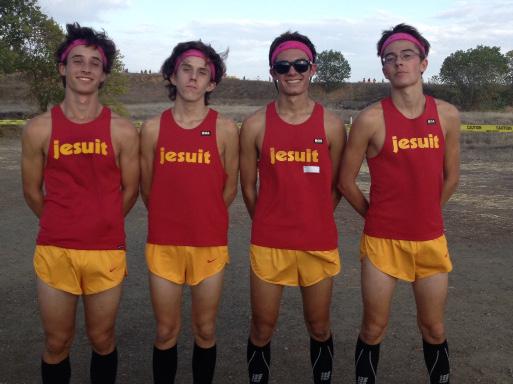 Jesuit's cross country team has dominated the competition thus far, quickly racing up the ranks. The Marauders started off the year ranked 70th in the state, but after a pivotal win against Del Campo, and other strong victories, they are now ranked 7th in the state.
Every weekend they run 3.1 miles on grass and dirt trails, up and down hills, and on rough terrain. Practice consists of running 8-10 miles everyday during the week.
These gentlemen have been committed since day one and have worked all season to earn their top state ranking.
Led by Walt "Yoda" Lang, Mr. Lai, Mr. Zielke, and Mr. Witzgall, the boys possess a strong work ethic and persevere through brutally tough races.
After seven races thus far, the Marauders continue to succeed. Senior leader Andrew Brown says, "This year has been a huge breakthrough, and with a young team we will continue to get better."
The persevering runners are determined to win a section championship, and continue on to take their talents straight to the state championship in Fresno.
Go out and support our Marauders as they continue to destroy the competition.