Sac-Joaquin Section's top two teams set to face off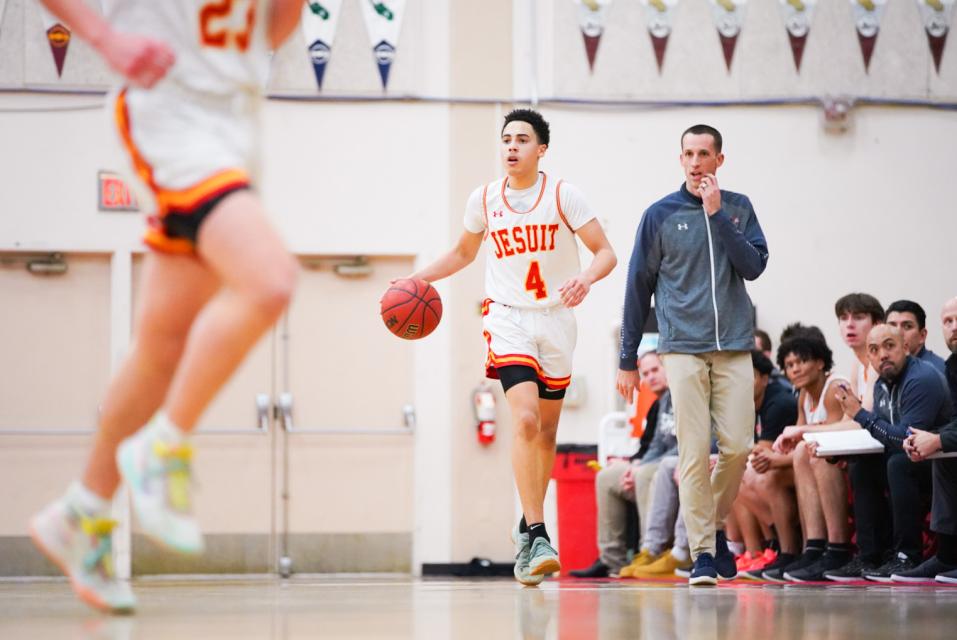 In a game featuring the Sac-Joaquin Section's best two teams, fans should be excited as Jesuit High School Sacramento battles the Sheldon High School Huskies this Saturday, Feb. 1.
Jesuit, the Sac-Joaquin Section's No. 2 team according to MaxPreps, is on a four-game winning streak. The Marauders are coming off an 81-75 overtime win over Davis High School in which 4-star recruit guard Isa Silva '21 led the team with 24 points.
Ranked No. 1 in the Sac-Joaquin Section and No. 13 in the nation, SHS holds a 17-4 overall with wins over perennial powerhouses like Corona's Centennial High School, slotted at No. 3 in the nation, and Mater Dei High School from Santa Ana.
Jesuit guard Chris Holley '21 believes the best way to defeat SHS is with teamwork and constant ball-movement.
"We have to focus on working together as a unit," Chris said. "[SHS] has an arsenal of talent. We can't allow them to create [isolated] situations while being aware when helping defensively we don't open up any lanes for back door cutting to get easy buckets. We are going to have to really protect the paint and be prepared to be physical."
While being favored against Jesuit, the health of SHS senior wing and 4-star recruit Marcus Bagley will surely impact the game's outcome.
Bagley, an Arizona State University commit and brother of the Sacramento Kings 2019 first-round-pick Marvin Bagley, was in a walking boot when the Huskies defeated Elk Grove High School on Wednesday.
Regardless if Bagley plays, Jesuit Varsity Basketball Head Coach Tim Kelly wants his squad to prepare the same.
"I am assuming Bagley is going to play," Coach Kelly said. "We are going to prepare as if he is in the game. Sheldon is so talented and so deep that our game plan will not change much if he is not on the court. We will try to focus on the things that are in our control."
Come out to Sheldon High School this Saturday at 7 p.m. and support the Marauders as they try to upset the Huskies.
Henry Krueger '21,Editor-in-Chief