Saint Isaac Jogues' life still has impact on Jesuit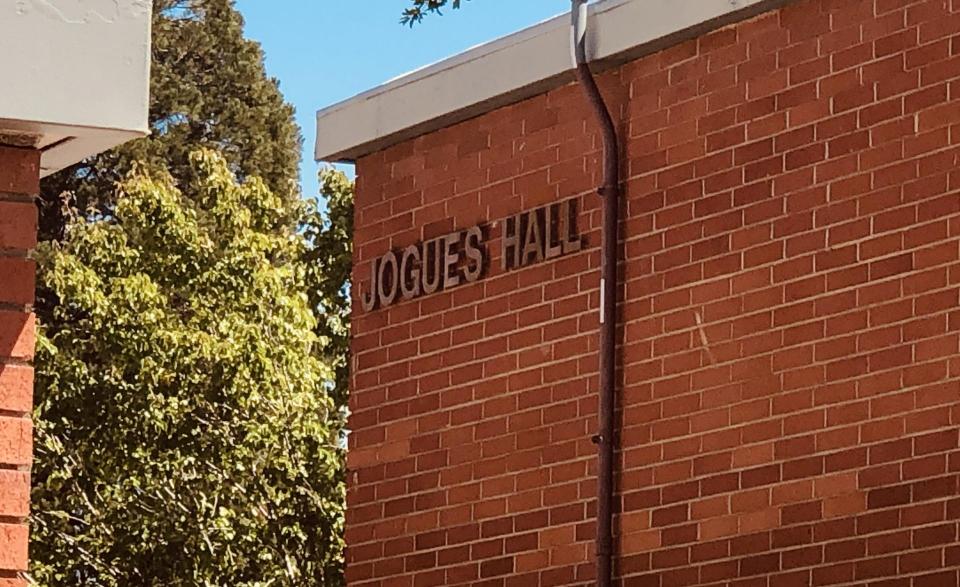 Since Jesuit's founding in 1963, Jogues Hall, Jesuit's first classroom building, still stands tall.

Jogues Hall is named in honor of North American Martyr, Saint Isaac Jogues. St. Jogues was a French Jesuit missionary who dedicated his life to spreading the Gospel and working closely with different indigenous groups.
St. Jogues was born 415 years ago on Jan. 10, 1607 in Orléans, France. In 1624, St. Jogues joined the Society of Jesus and was eventually ordained as a priest in Rouen, France in 1636.
St. Jogues was then sent by the church to spend his first six years as a priest in the Huron Lands in Ontario, Canada serving and ministering to the people of the Huron tribe.
In 1642, St. Jogues along with Saint René Goupil, the namesake of another Jesuit building, were taken captive by the Iroquois and taken to Ossernenon (near present-day New York). St. Jogues was tortured, but he managed to escape down the Hudson River and eventually made it back to his home country of France.
Soon after returning home, the French government ordered St. Jogues to visit Ossernenon to ease the relationships between the Mohawk Indians and the French. Unfortunately, there was an outbreak of diseases and St. Jogues was blamed for this occurrence. He was accused of witchcraft and murdered by the Mohawks in 1646.
Because of St. Jogues' courage and desire to spread the Word of God to all people, St. Jogues was canonized by Pope Pius XI in 1930, 284 years after his death.
St. Jogues has had a large impact on many people's lives, one being Father Tom O'Neill S.J., who describes how this North American Martyr has influenced his life and values.
"About 15 years ago, I spent some time back in South Dakota on the Pine Ridge Reservation with the Lakota and Sioux Indians," Fr. O'Neill said. "My love for the work with the indigenous people of South Dakota, I feel a real kinship since Isaac Jogues did that same work with the Native Americans."
St. Jogues' life has had a big impact not just on those he served but also on our Jesuit campus. Father Edwin B. Harris S.J., explains from his own view the impact St. Jogues and all of the North American Martyrs have on Jesuit High School.
"[Jesuit High School] do[es] ask you to be of service to other people," Fr. Harris said. "That dimension of Jesuit education comes from the example of these men. Examples of people who sacrificed their own lives to help others and bring the message of God's love to other people is the essence of the message."
President Father John P. McGarry S.J. explains the impact the North American Martyrs have had on this school as a whole and how their work influences the Jesuit community.
"I think the influence of the North American Martyrs who are the patron saints of our school, represent faith, sacrifice, hard work, and perseverance," Fr. McGarry said. "It's trusting in God that we will be able to face our challenges and overcome them. I think that's the message of the North American Martyrs for us at Jesuit High School. To live our faith courageously and joyfully like Isaac Jogues and the North American Martyrs did."
Although St. Jogues was a part of the past, his message and all that he did still resonates with the Jesuit community today. Jesuit gladly embodies the purpose of St. Jogues' work and Jogues Hall on Jesuit's campus is a great reminder of his empowering effort and selfless sacrifice.