Stop Asian Hate movement encourages respect in America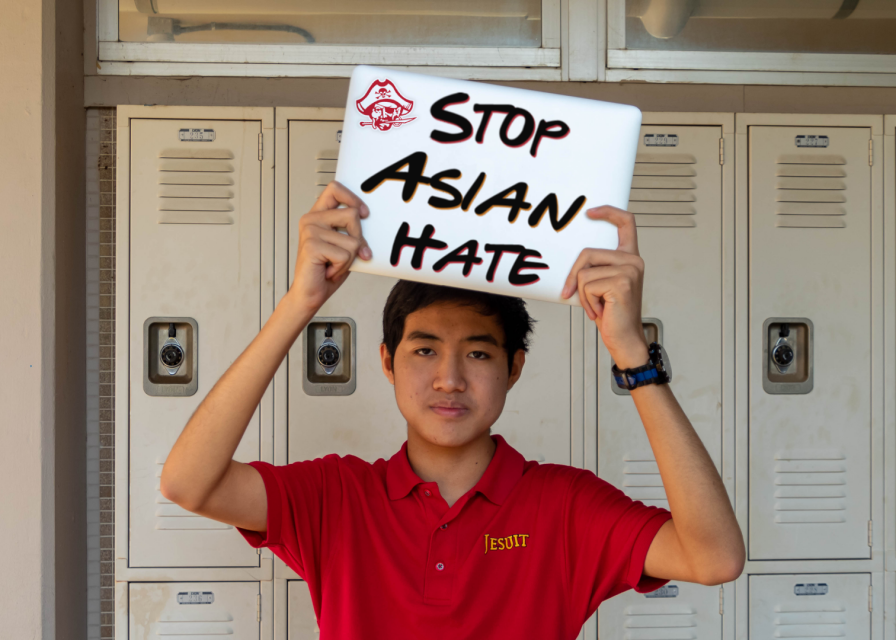 Ever since the start of the COVID-19 pandemic in 2020, hate crimes against Asian Americans have increased throughout the country. In response, the Stop Asian Hate movement was created in order to increase awareness and speak out against these crimes. Now, two and a half years after the beginning of the COVID-19 pandemic, members of the Jesuit High School Sacramento community reflect back on those troubling times.

When AP Biology and Physics teacher Mr. Nick Lai first heard about the violence against Asians, he was surprised. He thought the United States had already overcome these issues, but after some reflection, he realized that violence against all racial groups is still prevalent in our world today.
"I thought we were sort of past that," Mr. Lai said. "Growing up, there were words being said that I experienced, my parents experienced, but I don't ever remember it being actually violent. But then, the more you think about it, the experiences of other racial groups in the last 50-60 years, lots of people have been targeted for violence."
Nathaniel Luong '23 was initially disheartened by the news. He, too, thought that society had moved past this kind of bigotry.
"At first I was disappointed at all the Asian hate that was going around," Nathaniel said. "I felt that as a society, we were kind of going backwards at that time, and seeing all the hate that Asians were getting from COVID made me feel disappointed in society."
The Stop Asian Hate movement was comforting for many, including Jayden Canio '25, who felt that the movement was necessary, now more than ever.
"It's right for us to have a movement like [the Stop Asian Hate movement] because this problem for people viewing Asians as bad, is a pretty big problem because the United States should be a free country and we shouldn't have those hurtful opinions on one another," Jayden said.
When asked about the potential causes of these violent acts and racism in general, Mr. Lai references Jesuit's fall play, "Final Letters."
"A good thing to look at would be the play that they're doing," Mr. Lai said. "They have some really good insight as to why there's anti-semitism in this country, and a lot of it has to do with fear. It's fear that one group is trying to take things away from other groups, even though it's not true."
Jayden thinks that the root cause lies in the historical views of each race, and he emphasizes that someone's culture is what is really important, not their race.
"I feel like that historical view of how we were is kind of what brought people to using stereotypes to define a person. It doesn't matter what race you are; I feel like race doesn't matter in this world, but culture does," Jayden said.
Since the sudden spike in acts of violence against Asians, Nathaniel believes that things have gotten better for everyone and that while it's not perfect, the situation has definitely improved.
"It's gotten better," Nathaniel said. "I myself haven't faced too much discrimination or anything. I think there's in some ways, or some people, are still discriminated against and it shouldn't be happening, but overall, as a whole, I think it's getting better."
Speaking up is never easy, but the brave people that created the Stop Asian Hate movement have successfully encouraged change that has brought safety and comfort to Asians in America. There are still many acts of discrimination in today's world, but by spreading awareness and speaking out, we can help make the world a better place.