Vandalism restricts availability of some bathrooms on campus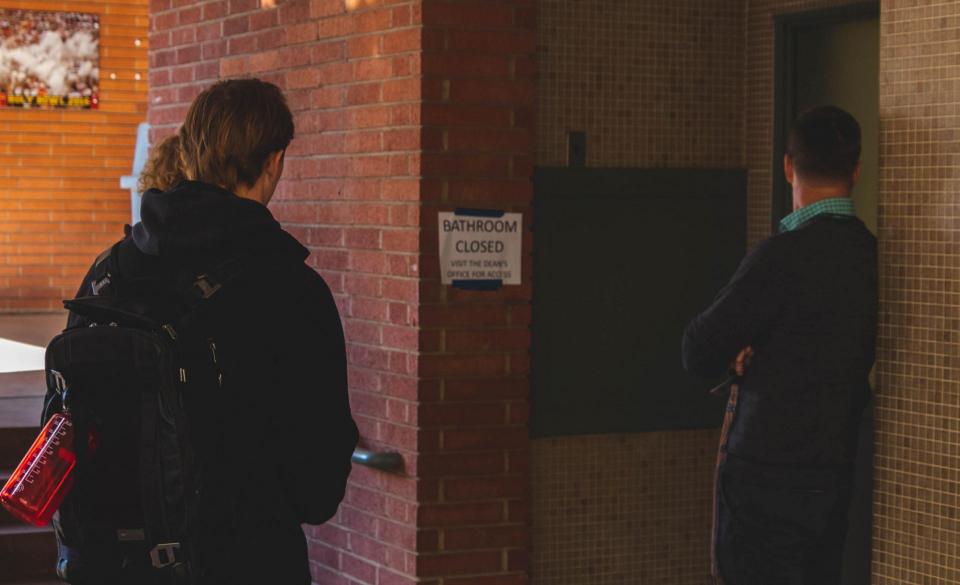 Recently, a wave of bathroom vandalism has swept across Jesuit High School Sacramento, leaving hundreds of students with compromised restroom availability and forcing the school to spend thousands of dollars to repair the damage.
While vandalism of this kind is trending throughout the country, the extreme level of damage and the frequency with which it is occurring on campus at Jesuit is uncommon for our community.
The damage was so extensive that it has affected the usability of many bathrooms on campus and, as a result, access to the remaining functional bathrooms had to be monitored until the damage could be assessed and repaired.
"To clarify, there are not new bathroom rules in place," said Dean Theodule. "The changes in access to bathrooms are the result of multiple major sewer line clogs that were causing toilets and urinals to overflow. It is hard to determine exactly the cause, but we believe mass amounts of toilet paper, toilet seat covers, paper towels and other items were intentionally being shoved into the toilets causing the lines to back up and require major repair. This is a safety issue and we needed to ensure that this problem did not spread to any more areas of campus before we could resolve the issues with the lines that were already clogged."
Bathroom restrictions will continue to haunt our campus as long as the administration has to continue to respond to damage and the logistics of repairs..
"[The changes will stay in place] as long as is necessary to address the problem," Dean Theodule said. "We hope that everyone can simply be civil and care enough for our facilities to not require major policy or procedural change."
Currently, the Dean's office has not identified any parties responsible for this vandalism, and the Dean's Office, as well as common decency, implores anyone with knowledge of these incidents to come forward.
"[Anyone with knowledge of who has committed the vandalism] should contact the Dean's Office, any school administrator, their Counselor, or any other trusted adult on campus to report what they know," Dean Theodule said. "Additionally, they can talk to their parents and have their parents contact any trusted adult on their behalf."
For the time being, Dean Theodule asks that students act as they have in the past and continue to follow Jesuit's rules and respect their fellow students, faculty, and staff.
"We expect students to be good and decent and care enough for each other to avoid destroying school property and putting other students in unsafe and unsanitary situations," Dean Theodule said.