Varsity cross country runners experience a season of growth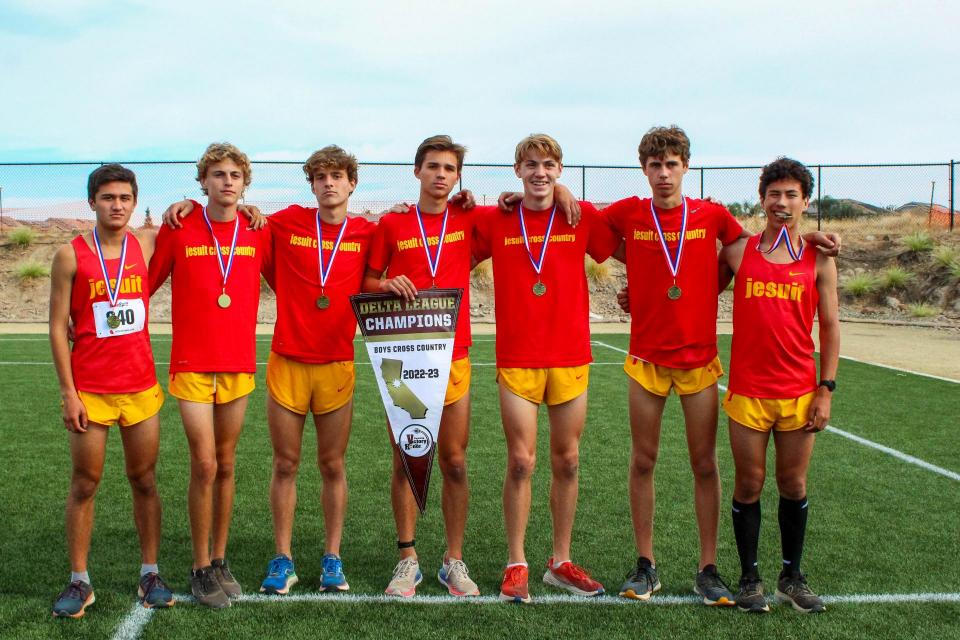 The Varsity Jesuit High School Sacramento Marauders' 2022 cross country team finished the season winning six races while placing second and 20th in the prestigious Clovis Invitational.
Mr. Lai believes that the growth of the underclassmen played a significant role in the team's chemistry and success this year.
"The team really got along well and the underclassmen have been stepping up," Mr.Lai said. "With such a small group of juniors and seniors, more pressure and responsibility has been expected of the sophomores and many of them rose to the challenge."
Assistant Cross Country Coach Nick Lai identifies the De La Salle Nike Invitational as being a crucial turning point for the team and the pivotal moment of the season.
"Winning the De La Salle Invitational was a big moment for the boys. It was the toughest competition they had, and the first time they went up against the top teams from Northern California, and they executed well," Mr. Lai said. "It gave them confidence heading into the rest of the season."
Jake Swanson '23 believes that he grew as an athlete and leader this season, by helping the younger athletes grow in the sport.
"I grew in my understanding of running this year," Jake said. "As one of the few seniors on the team, I had the amazing experience of helping guide some of the younger guys through training, injury prevention, mental resilience while running, and many other aspects of the sport."
Nick Lyons '23 sees the coaches as a reason for the team's success this season and thinks next year's team could be primed to make notable gains next season.
"I think that our positive, dedicated coaches really helped to contribute to our success this season," Nick said. "While I will not be here next year, I think that the entire team could improve by putting in more mileage each week."
The Jesuit Cross Country Program is extremely pleased with the team's performance this year, and everyone is looking forward to another great season in the fall of 2023.