Varsity quarterback Trenton Dewar, a valued leader on and off the field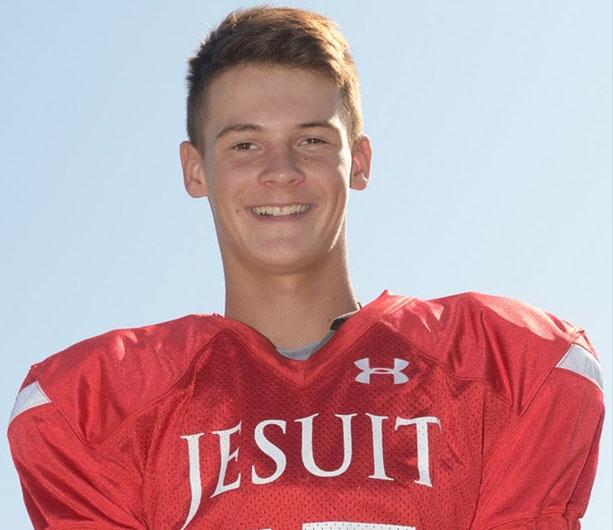 The Jesuit High School Sacramento athletic program is home to many accomplished student-athletes, who are known throughout the Sacramento area for their effort and excellence on and off their field. One such student is quarterback Trenton Dewar '23.

Trenton joined the Jesuit football program in-part because of his brother Ryland Dewar '21. Trenton details how Ryland and the football coaches made an impactful impression on his decision to participate in their program.
"My older brother went to Jesuit and after going to shadow day I knew I wanted to attend Jesuit," Trenton said. "The coaches in the football program definitely made me want to come out and play for them."
This season, Trenton Dewar was the second string quarterback for the Jesuit varsity football team until the fourth game of the season in a match up against Pleasant Grove High School. During the game, starting quarterback Preston Vukovich '22 went down with a head injury after taking a sack; ultimately, the injury proved to be season ending.
The injury Preston suffered thrusted Trenton into the starting lineup. With Trenton at the helm, the Jesuit attack did not show any sign of decreased production, and the team went on to win seven games straight. Trenton feels the team's dominance was due to how his peers elevated his confidence and reminded him of their goals.
"Seeing what happened to Preston made me nervous going in afterwards, but my teammates helped me out and pick me up and that nervousness went away," Trenton said. "They have been the reason we've been winning games and playing well."
Assistant Coach Jonathan Isaac was impressed with Trenton's ability to motivate his teammates and get the best out of them.
"[Trenton] has good command of his guys during the huddle," Coach Isaac said. "That's kind of a missed point of leadership. It's the lulls; it's not during play because our players are gonna do what they do. But in order to calm [his teammates] down in the huddle to kind of rally them around when things go bad, he's [does that well].."
Wide receiver Tatum Pappas '23 attests to Trenton's ability to establish himself to his teammates as a seasoned leader. Despite their loss to Folsom High School in this year's section semifinal game, Tatum is optimistic about the future.
"Trenton's definitely going to be one of the better quarterbacks next year because of his experience from his junior year playing quarterback," Tatum said. "And now that he has all this experience he gets to put into the offseason, he knows what he has to do and what he has to improve on."
Trenton looks prepared for the future thanks to the in-game experiences he got this year. From the large crowds to the high-pressure blitzes, the season he endured was a true testament to what high-level football looks like in California. And so with his hard-working attitude and the backing of his teammates, Trenton hopes to be ahead of the curve.