Varsity Soccer Scores Again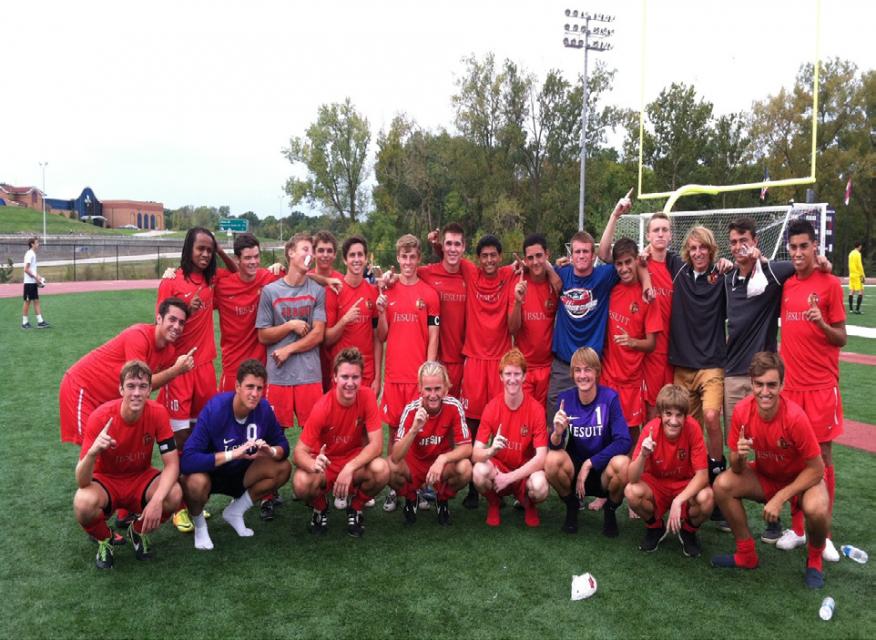 The Jesuit Varsity Soccer Team once again remained undefeated in regular season play.
With a record of 23-0-3, Jesuit is regained the NSCAA #1 National Ranking.While this is an impressive feat, our Marauders soccer team is no stranger to success.
Last year the Marauders earned the title of Maxpreps National #1 Team in the entire nation.
Even after graduating star players such as Niko Hansen and Kaba Alkebulan, the 2013 Jesuit team, led by captains John Bovill, Matthew Nemeth, and Evan Barrett, is still in the hunt for the number one spot in the national rankings.
No one is more supportive or confident of this team than its head coach and CIF Sac-Joaquin Section Hall of Fame inductee, Mr. Paul Rose.
When asked to describe this year's team, Mr. Rose stated, "They are a cohesive, hardworking group that have been willing to struggle through challenges." He adds, "They are talented enough to compete for a section title and a high national ranking."
Junior goalkeeper Luc Barbe sums up his team, saying, "We are deadly and if we keep pushing hard, no one can stop us."
No matter how the rest of the season turns out, our school can be sure that we will have yet another Jesuit varsity soccer team to brag about.