A Home on the Stage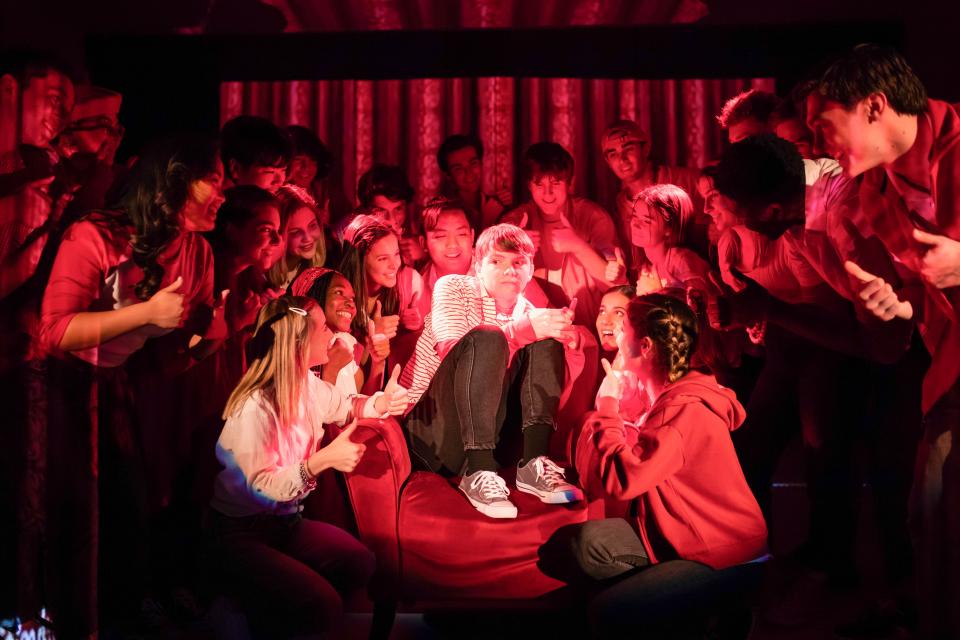 The transition to Jesuit High School Sacramento for many freshmen is a crossroads for self-discovery and change. For Kevin Sheahan '20, the Black Box Theater is the place where he found his passion and voice.
Initially, Kevin had wanted to go out for soccer or speech and debate because of his ability in public speaking. But after being urged by his big brother Andrew Briseño '16 to try out for "44 Plays for 44 Presidents," Kevin knew the stage was his place.
"There were a lot of difficult obstacles to go through, but overall, working on the show was a magical experience, and I just kept coming back," Kevin said.
Jesuit Drama is not just another cocurricular for Kevin. He sees his experience as development for the future.
"When I first joined, I just wanted something to do for a semester, but now, with every show, I take it as a huge step forward in furthering my craft," Kevin said.
The chemistry that Kevin creates with his dynamic acting is noticeable to any audience. His castmates notice the chemistry he creates among the actors on stage.
"I would describe Kevin's approach to acting as a student who is very interested in the arts as well as a way for him to grow into the passion that he has for acting," said castmate Cooper Achondo '21.
Since his first show, Kevin has taken a role in every Jesuit show. Jesuit Drama Director Ed Trafton '84 sees high potential in his dedication.
"The most wonderful part of getting to collaborate with him for these past four years has been to watch the gradual growth of his confidence," Mr. Trafton said. "He's always been very gifted and it's been wonderful to see him share those gifts more fully."
Despite the perceived challenges ahead in the acting field, Kevin remains positive, bound to make his mark.
"My plan is to just keep acting," said Kevin. "Doesn't matter if it's in a busted up theater on the side of a highway in Michigan or a Hollywood movie set."
With the campus closure due to coronavirus, the production of "Mov3!" was postponed indefinitely. Yet, the stage in the Black Box Theater is just the beginning for Kevin Sheahan, who remains eager to pursue many future roles.
James Fahey '20, Features Editor