Preparation for the play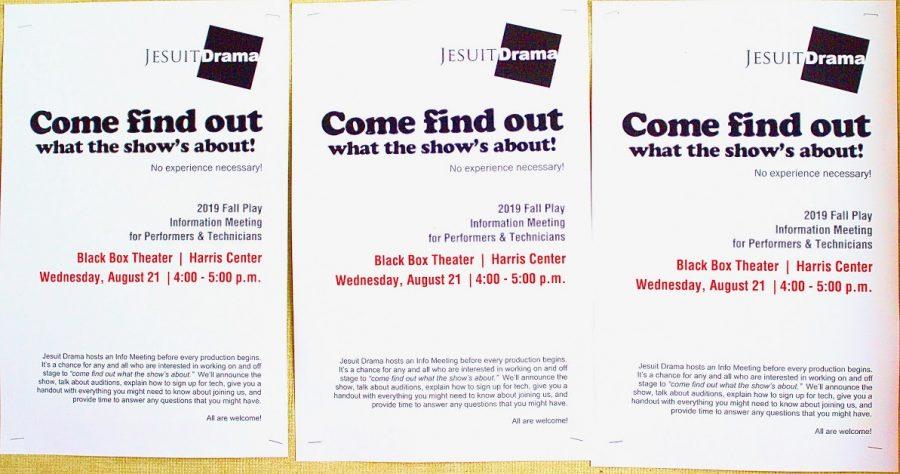 Each year, Jesuit High School Drama puts on two shows in the Black Box Theater — a fall play and a spring musical. Production for each of these shows requires hours of dedication from actors and technicians to create polished and memorable performances.
Drama technicians are the behind-the-scenes workers who make the show happen, working on stages, props, and sound design. Backstage work may not seem glamorous, but according to Jesuit Drama technician Nathan Bingham '20, it's fulfilling.
"My experience in doing drama tech has been amazing," Nathan said. "We had a great undertaking building two arches for 'The Elephant Man.' We had to build them on the ground and then use 12 or so people to hoist them up a couple [of] yards. It was hard work, but it was fun."
For those who want a more visible role in production, there are acting roles on stage. The idea of performing in front of a crowd might be nerve-wracking, but Jesuit Drama actor Kevin Sheahan '20 says that practice helps.
"The first time I stepped on stage back in freshman year, my hands were shaking, my voice almost cracked, and I was utterly terrified, but then, 30 seconds later, I was having a blast," Kevin said. "You realize 'Hey. I worked on this for three months. These are my best friends. I've got this.' I guess theater can sound lame at first, but I can honestly say through six shows I haven't met a single person who didn't enjoy it."
This fall's play centers around the prosecution of Scott Warren, a volunteer who, according to The New York Times, provides humanitarian aid to migrants crossing the Sonoran Desert. Mr. Warren was charged with three felonies after being arrested Jan. 2018. Court proceedings continue after jurors were unable to reach a verdict last June.
Cast and crew will work with Drama Artistic Director Ed Trafton '84 to explore the moral implications of Mr. Warren's trial. Rehearsals start Sept. 14, and the play's first performance will be Oct. 30.