14 Flags from 44 Presidents
2016 Fall Play Donates Flags Used Onstage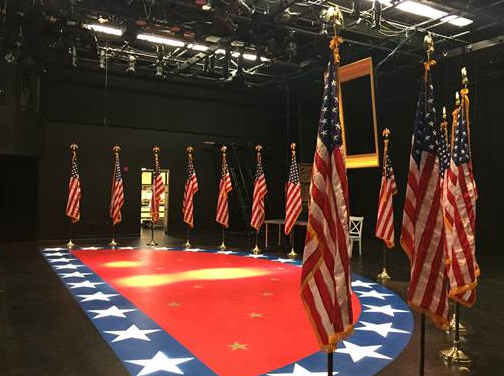 Each of the fourteen American flags from the set of our fall play have been donated to several local non-profit agencies; we're so glad that each of them will have a new home out in our community!
On behalf of the Veterans Connect at the Library and the entire Sacramento Public Library system, I want to thank you and the Jesuit High School Drama Department for the beautiful American flag.
We plan to display it proudly when we take our program out to the community.
Sincerely,
Katherine McMillan
Volunteer Services Coordinator
Sacramento Public Library
Thank you so much for the donation of two United States Flags to the Clunie Community Center. We are so grateful to you and the Jesuit High School family for this kindness.
Our center hosts many events such as Eagle Scout Ceremonies, political candidate and issue forums, etc and having the flag on site will be so appreciated by the many visitors to our Center.
This Thanksgiving season we are thankful to you for your kindness.
Warmly,
Lisa Schmidt, Cecily Hastings and Joe Pane
Friends of East Sacramento